The Souhrada Family Website
Reestablishing the Bohemian Connection – Part 2
Rediscovering our Souhrada cousins in the Czech Republic – 1991
by Anton Vanicek, Muscatine, IA
---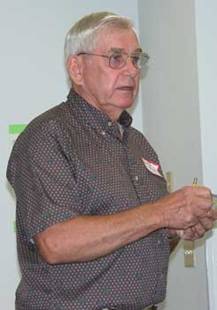 Anton Vanicek (picture taken in 2004)
---
Back in 1971, we (my mother, M Elizabeth Wosoba, sister and brother-in-law, Velma and Gordon Flynn, sister-in-law, Nelda Vanicek, and myself) were on a trip to Czechoslovakia to visit other relatives [Vaniceks] and stopped in Pisek to see if we could find any evidence of the Souhrada family. We tramped around a cemetery but didn't really discover anything. Asking a few people on the street if they knew about Souhradas yielded nothing, so we drove on.
I'll admit it was exciting when Frank Souhrada called me in 1991 about the news of some new-to-us relatives in Pisek, Jiri and Vera Souhrada. Frank thought since I was going to Czechoslovakia anyway, that he would also go on a separate flight to Prague, and that I should meet him in Pisek. Together we'd go to meet Jiri and Vera. I think Frank forgot that I hadn't spoken Czech for decades.
To get all this arranged, Frank came up with the idea of a 3-way phone conversation between he in Salt Lake City, Jiri Souhrada in Pisek, and myself in Muscatine, Iowa. I was pretty nervous about the whole telephone thing and especially about attempting to speak Czech on the phone to someone I hadn't met.
But Frank went ahead and placed the call and a little to my surprise, we all three were on the line together. In spite of my poor Czech, but thanks to Jiri's English, we communicated a date, time and place we would all meet the following month in Pisek.
I arrived alone on time at the hotel in Pisek we agreed on, but no Frank. Nor did I see anyone who I thought might be Jiri or Vera. It didn't help matters too much when I looked into the Pisek phone book...there were four Jiri Souhradas' listed! I called the first one, but as I recall the conversation didn't go very well, and neither of us knew what the other was saying. I wasn't up to trying to call another Jiri.
Fortunately for me, a few minutes later a young couple came up to me and introduced themselves...it was Jiri and Vera. I'm sure I looked like the lost American; it was a nice surprise that we could communicate so well using both English and Czech. And yes, Frank's bus finally arrived from Prague. It was the beginning of a memorable visit. And the rest, as Frank says, is history.
After I got home, I even put Jiri and Vera's phone number on speed dial. A lot has changed in the last seven years! Today we keep in touch by e-mail.
---
Jiri Souhrada, Anton Vanicek, Vera Souhrada, and Eva Truhlar – picture taken in Pisek, Czech Republic, 1991
---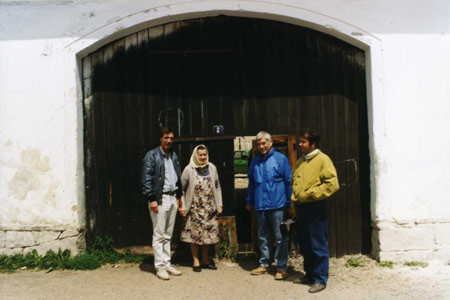 Frank Souhrada, Marie, Anton Vanicek, and Jiri Souhrada – picture taken at Dolni Novosedly #2, Czech Republic, 1991
---
Anton Vanicek is the son of Anton & M Elizabeth Wosoba Vanicek; grandson of Frank & Josephine Souhrada Wosoba; great-grandson of John & Barbara Hanova Souhrada
---