The Souhrada Family Website
"IN THE BEGINNING"
A brief history of our Souhrada Family Reunions
By Leota Campbell Anderson
---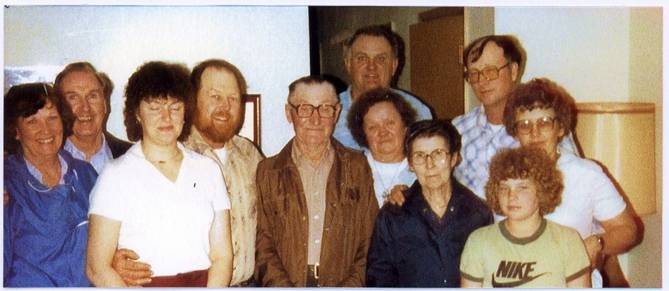 May 26, 1981 – Five Souhrada Cousins Gather to Get Acquainted
Leota and George Campbell, Phyllis and Dalyn Souhrada, Bill Rassman, Marvin and Marlys Gronwoldt, Hazel Rassman, John and Donna Urman, Rachel Souhrada
---
Ever noticed when God takes someone you love out of your life it creates a void, a feeling of emptiness? Ever noticed too when God removes a loved one and a void is created He plants a Seed in that void that can bloom and blossom into something wonderful?
When I was very young my precious mother, Barbara Souhrada Daws Sager, divorced my father leaving her to be the sole support of my brother, my two sisters and myself. She cleaned houses and scrubbed floors, working five and sometimes six days a week to hold us together. During some of the summer vacation months of my grade school days I stayed with her sister and husband, Fred and Anna Souhrada Rassman, on their farm near Cresco, Iowa and I loved living with them. We were in church every Sunday, and after our noon meal company either arrived or we went visiting. I hardly ever left Aunt Anna's side as she gently taught me in a very loving quiet way the many things that are necessary to know and do while growing up. She became my second mother and I dearly loved her. I hadn't known a father in my life and Uncle Fred couldn't have been a sweeter gentler person to take that father role while I was with them.
My precious mother, brother, sisters and Uncle Fred too, all died years before my Aunt Anna went home to be with God and with her passing I sensed a great void in my life.
My husband George and I attended Anna's funeral and there one of my cousins, Donna Souhrada Umlan, who I knew only because I had seen her at Souhrada family funerals, approached me saying her brother Dalyn Souhrada would like to meet me. We met and Dalyn invited us to come for a visit at his farm home the next day. "What a blessing!" I thought, "I'm going to see my grandparent's farm, where my mother and all her siblings were born and raised!" But the greatest blessing of all was DaIyn's invitation that day that brought five Souhrada cousins together for the first time. This invitation was THE KEY THAT OPENED THE DOOR for the start of our Souhrada Family Reunions.
Donna Souhrada Urman and her husband John, Bill Rassman and his wife Hazel, Marlys Souhrada Gronwoldt and her husband Marvin were all welcomed that next day by Dalyn, his wife Phyllis and their daughter, Rachel. At this gathering we all enjoyed being together so much that we decided to have a Souhrada Family Cousin Gathering. Some of our cousins had died, but there were still 17 of us and invitations were sent to all for a Cousin Gathering the following month at our home in Bloomington, MN. This Cousin Gathering that following month became the 1st of our Souhrada Family Reunions here in the U.S.A.
In 1990 three Souhrada family members, Frank & Linda Souhrada and Anton Vanicek traveled to the Czech Republic in search of our family roots. Frank Souhrada was blessed in finding another branch of our Souhrada family tree, his 3rd cousin, Jiri Souhrada & his wife Vera plus the homestead Donli Nososedly #2. Stemming from this find, in 1992, Jiri and Vera traveled from the Czech Republic to attend our 12th Souhrada Family Reunion.
In 2000 as we celebrated our 20th Annual Souhrada Family Reunion here in the U.S.A, Jiri & Vera held their first Souhrada Family Reunion in the Czech Republic and are now holding World Wide Souhrada Reunions.
In 1981God planted a Seed in that void in my life when He took my Aunt Anna home to be with Him for all Eternity. That Seed bloomed and blossomed into Joyful Souhrada Family Reunions not only in the U.S.A. but its roots and blooms and blossoms have spread into our Souhrada Family Homeland – The Czech Republic.
God's Planted Seed has filled that void in my life with Cousins & Families from many branches of our Souhrada Tree whom I have come to dearly love - and for this I greatly thank Him.
Leota Campbell Anderson
---