The Souhrada Family Website
Souhrada Family Genealogy and History – Including John (Jan) Souhrada (1824-1918)
By Velma Vanicek Flynn
---
Velma Vanicek Flynn was one of the hosts for the 21st Souhrada Annual Reunion on August 11-12, 2001. On Saturday August 11 she led a walk for members attending the reunion in the Mayflower Cemetery (Oxford Junction, Iowa). The following is her story of that walk…
---
I dedicate this walk to the memory of my mother, M. Elizabeth Wosoba Vanicek (1886-1989), who, in my younger days, took me on many a walk through this cemetery. IF she were here today, she could re-tell her stories, which now grow dim in my memory.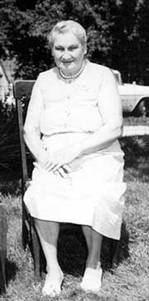 Elizabeth Wosoba Vanicek
Circa late 1950s or early 1960s
---
We begin our walk with my mother's grandfather and our patriarch, John (Jan) Souhrada. All Souhrada family members interred at Mayflower Cemetery are descended from him, either from his first marriage to Barbora Hahn(ova) (1820-1878) or from his second marriage to Anna Ticha (1847-1912). His burial plot is in Row 1 (Rows run N to S) near the fence that marks the East boundary of the cemetery.
Although he is the oldest Souhrada interred here, his burial was not the first. The earliest was that of his infant daughter Frances (ca. 1885) and his infant, twin grandsons, Edvard and Jakub Burda (1887-1887) sons of his daughter, Elizabeth "Lizzie" Souhrada Burda and her husband, Jacob "Jake" Burda. There is no stone for Frances's grave but Anna T Souhrada's obituary in an October 1912 issue of the Oxford Mirror stated that her "remains were laid to rest beside those of her infant daughter." The twins are buried in Row 3, near their Burda grandparents, Josef (1825-1883) and Rosalie (1846-1915) Burda, a short distance from their grandfather, John Souhrada, and their step-grandmother, Anna.
John's tombstone reads "1818 -1918". My mother recalled that when asked about his age he would reply that he was "around 100". His obituary printed in the Nov. 7, 1918 issue of The Oxford Mirror stated that he was born the 16th of May 1820. However, his birth date is recorded in the Czech Archives as being May 20, 1824, making him 94 years at the time of his death.
John was born to Matej Komas Souhrada (1796-1866) and Anna Stara Souhrada (~1794-1854) in Dolni Novosedly, Cottage (house) number 2. He was christened in St. Michael's Church in the parish of Horni Zahori, County of Pisek. He was given the name of "Jan Nepomucky Souhrada". It was customary for children born on a saint's day to be named after that saint. St. Jan Nepomucky was one of the early Christian martyrs of Bohemia.
The first of John's family to emigrate to the U.S. was his daughter Barbara, and her husband Michael W. Wosoba in 1867. They first came to Jackson County, IA and then to Jones County. Other Wosobas had preceded them. The Wosobas and Souhradas lived in neighboring villages in Bohemia as they do, even today, in what is now the Czech Republic.
Next to come was his son, Vaclav, in 1870. He came on the sailing ship "Amaranth" with his uncle and aunt, Matej and Veronika Luzum Souhrada and their children, his cousins: John, Anna and Thomas. For a time he lived in Jones County and applied for naturalization papers and then moved on to the Saratoga-Cresco area of Howard County where he found employment on the railroad. In 1879 he married Kate Bican and began farming on a homestead claim near Saratoga, IA. Vaclav died in 1909 of throat cancer in the Northwestern Hospital in Minneapolis, MN. Both he and Kate are buried in the Saratoga, IA cemetery. Matej and Veronika lived in Cleveland, Ohio for a time, where there were other Souhradas and a settlement of immigrants from the Pisek area. They eventually settled in Calmar, Wineshiek County, IA.
John was preparing to take his family to America and in 1873 applied for permission to emigrate. His physical description at the time was, eyes light blue; hair black-brown; medium build; pointed nose, and a blemish on his left cheek.
Misfortune befell the family, however. His wife, Barbora, died and his daughter, Rose decided to marry and did not want to leave Bohemia. He himself, remarried, and he and Anna became the parents of their first child, Michael, in 1880. In about 1881 he decided to come to America alone and stayed with his daughter, Barbara, and her husband, Michael Wosoba. About a year later, Anna came with her daughter, Mary, and the other children, John, Elizabeth, Josie and Michael.
St. Michael's Church in Horni Zahori is where generations of Souhradas were christened, married and laid to rest - and this continues to this very day. The cemetery is on the church grounds. As one enters the cemetery the first grave site encountered has the inscription:
RODIA (family) SOUHRADA.
DOLNI NOVOSEDLY C 2 (Dolni Novosedly #2) (House #2)
This puzzled me, as there seemed no indication as to which Souhrada is buried there. When I asked about this, I was told that it is the burial place for those who come from Dolni Novosedly #2. (I think those born there?) I was totally overwhelmed when Jiri Souhrada said there could be as many as 10 generations buried there. His father is among them.
---
---