The Souhrada Family Website
"PAVELKA - PAWELKA - POWELKA"
By Leroy Powelka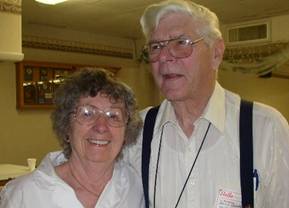 Leroy Powelka with his wife Virginia (August, 2005)
---
Note from the webmaster: I received the following article from Leroy at the 2008 Souhrada Family Reunion in Cedar Falls, Iowa after appealing to all of the guests for memoirs, notes, letters, articles, and pictures that Souhrada family members would like to share with others on this website. Leroy was kind enough to provide a copy to me, and it will hopefully allow him to connect with other Pavelka family members as of yet undiscovered.

Leroy and his family were the hosts of our 2006 Souhrada family reunion in Maquoketa, Iowa. His great grandparents were Matej and Barbora (Souhrada) Wosoba. If you would like to contact Leroy, please send me an email by clicking here.
---
"PAVELKA - PAWELKA - POWELKA"
December 17, 2005

As we near the end of 2005 and the beginning of 2006, I cannot think of a better time to "reach out to distant cousins" and try to establish what the connection might be! Approaching my 78th year, I find my interest in the genealogy of this family increasing. There are so many untold stories, and I find the family spread across the entire breadth of this great nation so just maybe YOU can help me fill in a few of the pieces:
In the late 1970's, a nursery man came to Iowa from the San Antonio TX area. He had been hired by Stark Nurseries to call on Iowa Nurserymen to introduce new varieties of apples. In our discussion of fruits and in particular different areas of the country, he mentioned that he knew of people living in his area by the name of PAVELKA. This revelation has set in my mind and brewed up many "what ifs". I'm not sure whether I should thank David Bradley or not for putting the questions in my mind. At least not until I do a bit of casting of my fish line to determine WHO is out there. I'm sure that a connection must exist for this part of the family emigrated from Bohemia (Moravian part) in 1850-1852. The reason for the spread of years is due to records showing three ships manifest with basically the same names over that period of time. It was only through a birth certificate for my "great grandfather Joseph" an immigrant and a Civil war Veteran. He came to this country as a lad of 9, having been born in Bohemia in 1841. (Kostelec ,Bohemia)

I will back up a bit and explain. In 1798, in northern Bohemia (possibly Moravia) at Lhotz, to Jana (John) and Maria Beneova Pavelka was born a son Wentzel or Valcav (George) Pavelka. The date was May 22, 1798. Because John Pavelka was born in 1770, it would appear that George may have been the first born of that family, but I know not of possible siblings.

My research shows George (Wentzel) to be married to Katherine Bezdiceka (born Oct. 22, 1810) in Bohemia, and four children having been born. (Joseph, Anna, Fanny and Anton) Entering this picture is the possibility of another wife by the name of Anna. I cannot believe this probability for there appears to be too many years and the immigration records do not support it. Could there have been another George or Wenzel within that family of Johns and Maria? The only record that gives any voice to this possibility comes from the U.S. Census in the mid 1850's. At that time Katherine was still alive and listed as the mother of his children. Both Katherine and George died in the early 1870's. Katherine died while visiting her daughter Anna Dolezal at Monteour, Iowa and is buried there in the SW corner of that cemetery, next to possibly a granddaughter named Anna (age 7 years). George is buried in the Mayflower Cemetery (SE corner) Oxford Junction, Iowa. The conflict in names and dates causes me to wonder if there wasn't another sibling in the family by the same name. I know very little about Anna and Fanny, other than Anna married a Dolezal (as stated above) and fanny married a John Vogenthaler of Dubuque, Iowa. It is too bad that my parents did not follow up on their relatives. This is also true with my great grandfather's brother Anton, who married in 1868 and moved to the Solon, Iowa area in about 1872. I have been visiting the remaining family members of Anton's over the past few years and would like to think that I'm "reconnecting".

Shortly after arrival in this country, at the age of 9 years my great grandfather Joseph, went to work for Solomon Pence. This man employed many who had just arrived. Joseph worked for him for 9 years and then in 1861 enlisted in Iowa's 26th Infantry for 4 years. This tour of duty was shortened when an ambulance crushed his ankle in the Yazoo campaign in Mississippi. He served just over two years and was medically discharged. Most of the overseas information came from his baptism certificate that was finally obtained in about 1918, one year before he died.

Upon his return to the Oxford Junction area he married Adelia Morovic, a girl from the Bohemian village that he came from. Her father was the operator of the mercantile store in Baldwin, Iowa. They were married in the Catholic Church of Baldwin, the only one to serve the area until about the late 1880's. To Joseph and Adelia were born eight children, four of which reached maturity. The children were Joseph Paul (my grandfather), born January 26, 1870 - died December 22, 1953, Frank, Manuel, and Velma (Shimerda). Of these four, only my grandfather Joseph Paul and Velma had any children. Joseph Paul married Anna Homolka from Hrdlorez, Bohemia on April 3, 1893. To them were born three sons; Gilbert (killed on the last day of WWI), Robert and Manfred Vince. Robert (born in 1896) married Mary Weber and had two girls - Yovanne and Roberta. Roberta is alive and living with her family in California. Manfred V. -my dad, married Viola Burda and had three children; Dorothy (1925), Leroy (1928) and Anita (1932). We lost the youngest this past year to cancer.

Now, to address the problem indicated in the heading of this reunion letter…that of the spelling "PAVELKA - PAWELKA - POWELKA". Throughout the 20th century and possibly starting in the 19th, there has been present all of the spellings indicated within one family. Of the two brothers who immigrated in 1850 - 1852, with Katherine and George - Joseph and Anton, it appears that Joseph may have in his first 20 years used PAVELKA, but latter because of the war or what changed to PAWELKA. His sons, Joseph Paul, Frank and Manuel all used PAWELKA. This carried over to the next generation to Gilbert and Robert. M.V. as my dad was known, always stubborn, chose POWELKA. I was told in the mid 1940's that he had changed the name to POWELKA, but I have not found verification in the records to prove such. Because I have always used that spelling, I continue to do so even though I would like to use the original PAVELKA spelling. The cost of correction at this point would be prohibitive.

The brother of my great grandfather, Anton continued the spelling of PAVELKA and married another girl from Bohemia (same area from which he came) in Baldwin, Iowa in 1869. In About 1872, he moved his family to the Solon, Iowa area and had 9 children. I believe only four or five of them reached maturity. Anton died after only about 15 years of marriage. The farm that he purchased in 1872 is still owned by family members. In recent years, I have reestablished some connection with this part of the family and try to visit Anton's great-granddaughter Charlotte who lives just South of Mount Vernon, Iowa. I cannot be sure who might read this, nor who may have the genealogy of the PAVELKA'S that I seek, but just maybe this can be passed on to those who might offer some help. Thank you for any help that you may be able to provide.

Best Wishes,
Leroy E. Powelka (PAWELKA -PAVELKA)
---