The Souhrada Family Website
Ron Daws (1937-1992)
(from the 1996 Souhrada Family Newsletters and various sources)
---
Ronald (Ron) Harold Daws
Born: June 21, 1937
Died: July 28, 1992
Father: Harold Earl Daws (1910-1942)
Mother: Bernice Kelly Daws (1891-1983)
Wife: Marlene Larson Slettehaugh
Three Children: Kathleen (Kathy), Darryl, Aaron
Ron is the great-great-grandson of Jan (John) N. Souhrada
---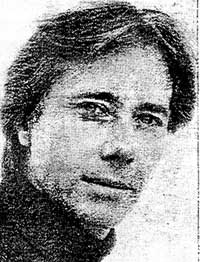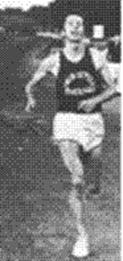 Ron Daws
---
"...When you reach the 20-mile mark of a marathon feeling utterly spent, but finish somehow, you suspect you can conquer other seemingly unbearable events in life. After you discover you can set tough goals and prevail, you realize you can accomplish almost anything you put your mind to. You don't have to look to the marvels of the Benoits, the Coes, the world-class to find your heroes; look inward to your own struggle and discover yourself. What you find may startle you, it may expose you to a whole gamut of emotions, but it will never bore you. And, as Theodore Roosevelt promised, your place shall never be with those cold and timid souls who know neither victory nor defeat."
- Ron Daws, from Running Your Best, Epilogue
---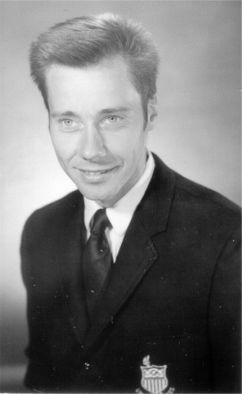 Ron was a runner who competed in the 1968 Olympic Marathon in Mexico. The He also was an artist who preferred working in watercolors, an author who had written two books on running and was working on a third when he died at age 55. He was a burgeoning cross country skier, a lecturer and a running coach.† He had been a research analyst for the Minnesota Department of Jobs and Training for about 30 years.
Ron was a Minneapolis native, was an average miler at Central High School and lettered in cross country and track at the University of Minnesota. In his first year he was in engineering college, next his major was theater, then fine arts (drawing & painting). In 1960 he received his degree in psychology - placed 14th in the Big Ten cross-country meet - and helped organized the Minnesota Road Runners Club.
He began training intensively for the 1968 Olympics about four years beforehand. He finished 22nd of 82 runners in Mexico City on October 20, 1968.
For a period of five or six years, following the Olympics, Ron took his family with him for two weeks into the mountains near Colorado Springs, to a Running Camp. Here he lectured and coached runners. He continued running marathons until 1983 and took many pupils under his wing.
From the mid-1960s to the middle-1980s there wasn't anybody who ran in Minnesota who didn't come into contact with Ron Daws. He was the guru of the winning community. People would seek him out, almost like a Zen master.
Ron was influenced by Arthur Lydiard, a New Zealand runner and coach who developed a training system in the 1940s and 1950s. In Ron's first book, "The Self-Made Olympian", (1971), he explained the system. His second book, "Running Your Best" (1985), also included workout charts, quotes and anecdotes gathered from 25 years at the top of his sport. He also wrote articles for Runner's World magazine. He was commissioned by the magazine to paint watercolor collages of five or six famous runners. His work was published in the magazine's 1988 Olympic section. He also illustrated his second book.
He continued to run 10-kilometer and 5 mile races but fell in love with cross-country skiing. He said running was great but skiing far excelled it.
Ron began dating Marlene Larson in high school and they married after he finished college. They had three children, Aaron, Kathleen and Darryl. Ron and Marlene, after many years of marriage, divorced. After this Ron was married for one year to Lorraine Moller, a marathoner from New Zealand. Ron was in a committed relationship with Mary Hanson at the time of his death.

Ron died on July 28, 1992 of a massive heart attack with unrecognized symptoms at the age of 55 years.
---
SYNOPSIS OF RUNNING CAREER OF RON DAWS
1953 Began running at Central High School, Minneapolis, Minnesota
1960 Declared Outstanding Cross Country Runner at University of Minnesota
1967 National Marathon Champion-represented USA at Pan American Games in Winnipeg, Canada
1968 Placed third in National Marathon
1968 Member of USA Olympic Team running 22nd in Mexico City, Mexico
1969 Placed 4th in Boston Marathon (placed 1st from USA)
1969 Represented USA in Korean Marathon
1969 Raced at London, Ontario, Canada
1970 Achieved 2nd place in National Marathon
1973 Placed 1st of the Americans who ran in Kosica, Czechoslovakia
1974 Placed 21st in Boston Marathon
1978 Ran Choysa Marathon in Auckland, New Zealand
1980 Ran 10 Mile in New Zealand
1980 Ran Half Marathon in London, England
1980 Ran Marathona Atlantica Boavista, Rio De Janeiro, Brazil
1981 Ran Marathona Atlantica Boavista, Rio De Janeiro, Brazil
1982 Ran 10 KM Road Race in Auckland, New Zealand
1986 Was entered into the National Road Runners Hall of Fame
---
Editorís Note: In doing some further research on Ron, I found a series published about Ron and his running partner Steve Hoag as part of the Human Race Heroes Program. (Beginning in 2002, The Sporting Life has designated Human Race Heroes and initiated a fundraising effort for the charity of choice for the honoree. In 2004 they honored Steve Hoag and Ron Daws, and fundraising for Team USA Minnesota.)
The series was written by Teri Dwyer; a freelance writer in Minneapolis/St. Paul Minnesota and a running columnist for Silent Sports magazine.