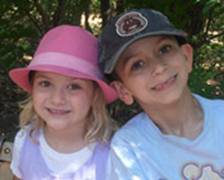 Kloē with big brother Kaleb
One Sunday evening last December 2010, four-year-old Kloē Souhrada, was getting ready for bed. She had just taken a bath and was playing on the couch before bedtime. Suddenly, Kloē fell off of the couch and landed on her back on a knitting bag. When she got up, her parents, Mary and Kevin, were shocked to see a 12-inch knitting needle protruding from her back. In a panic, they immediately called 911 and Kloē was transported via ambulance to Dell Children's Medical Center's Emergency Department.
While the trauma team examined Kloē, she protested that her back didn't hurt and that she only needed a band-aid. Nurses were amazed by this brave little girl as they prepped her for emergency surgery. Dr. Kenneth Fox, a pediatric cardiothoracic surgeon, and Dr. Julie Sanchez, a pediatric trauma surgeon, told Mary and Kevin that Kloē would need surgery and may need to be put on cardiopulmonary bypass as the diagnostic tests showed that the knitting needle may have pierced her heart and possibly other vital organs. The team would work together in the operating room to ensure the best possible outcome.
Once Kloē's surgery began, the hours seemed like days as Mary and Kevin nervously watched the clock ticking away. Kaleb, Kloē's six-year-old brother, was also at the hospital, since the Souhrada family did not have any family close by. Dell Children's Child Life Specialists worked with Kaleb to explain what was happening and keep him occupied while Mary and Kevin spoke with doctors and phoned family. Dr. Fox finally emerged from surgery to happily tell them that Kloē was one very lucky little girl. The knitting needle had just missed her trachea, esophagus and heart but had pierced her right lung, with the tip actually moving the aorta out of position. In fact, the needle had missed her pulmonary vein and pulmonary artery by less than a centimeter. The needle was successfully removed with no long-term effects.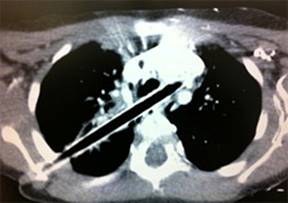 X-ray of knitting needle
Kloē spent several days at Dell Children's recovering from open-heart surgery and letting her punctured lung heal. One nurse, Jeri, even brought her a special box full of Hello Kitty pink band-aids (her favorite color), so she could finally get the band-aid she had bravely asked for in the Emergency Department. Mary and Kevin thankfully watched as Kloē made a full recovery.
Mary recalls, "Dell Children's was wonderful from the minute we arrived. My husband and I were devastated and the staff was knowledgeable and reassuring. The Child Life Specialists really helped Kaleb cope with seeing his sister get hurt so traumatically. We will be forever grateful for the care and support Dell Children's provided to not only my daughter, but to our whole family during this traumatic event."
END of Dell Children's Hospital Article
---
Note: Kloe Souhrada is the daughter of Kevin and Mary Souhrada of Austin Texas. She is the granddaughter of Pete and Karen Souhrada.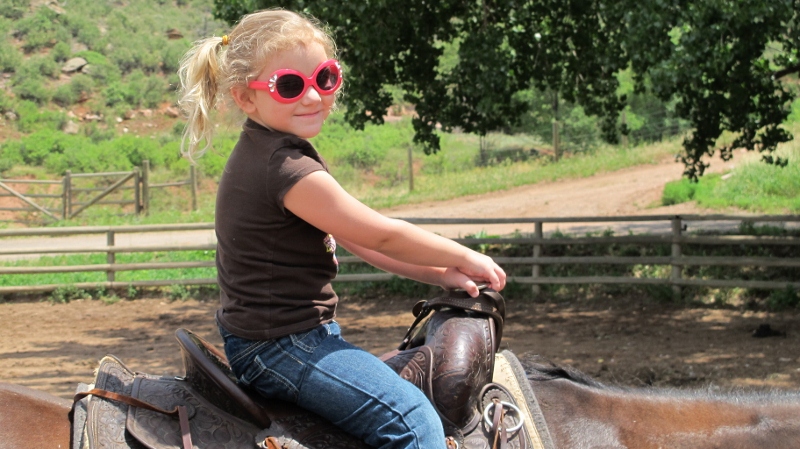 Kloe on her first horseback ride in Loveland Colorado (July 02, 2011)
---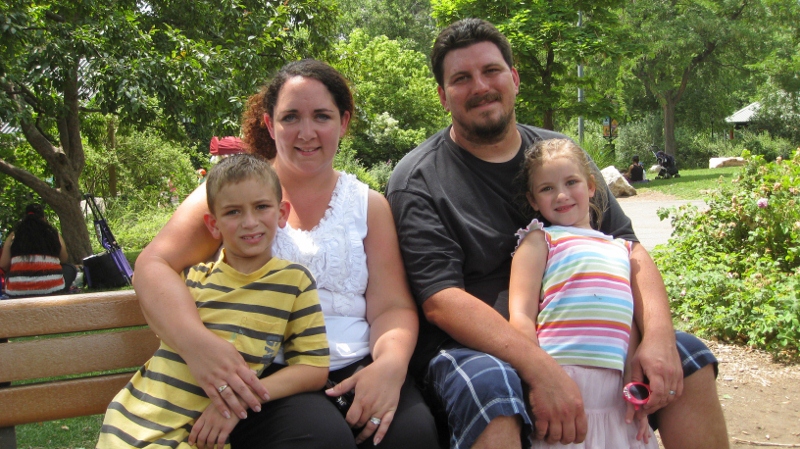 Kaleb, Mary, Kevin, and Kloe Souhrada (July 05, 2011)
---