The Souhrada Family Website
SORGMANN/KORDT Surname
By Karen (Williams) Souhrada
KORDT - SORGMANN
(allied names: BRANKAMP, BORGSMILLER)
The surname Kordt came into our Williams family tree through Mary Kordt who married Ignatius Sorgmann; parents of Edna Sorgmann who married Donald Williams.
Little was known of this family line, save for the fact that the father Wilhelm/William emigrated to the U. S. from Germany sometime between 1878 and 1880. In the year 1887 we have the Jackson County, Illinois marriage license information for the joining of Mary Kordt and Mathias Sorgmann. This information was posted to the family website, where in January 2012 it was picked up by a KORDT family researcher in Germany. With delight we learned about the KORDT family history in Germany, and of our Wilhelm/William and Mary prior to their immigration. What we know now comes about from a willing and able family researcher, who so generously gave of her time and talent to search both church and state archives.
Thank you Elizabeth Kordt Königs for giving us this wonderful family history! We have excerpted information from her many informative e-mails:
"First of all about the name: "Landwehr" is a term from the military which means as much as land forces. The Altenessener Landwehr (Altenessen is the part of Essen where our ancestors lived) dates from the 13th century. They protected the "Essener Stift", a kind of convent, against enemies. The area around Altenessen was also called Landwehr.
Our ancestors settled down in Altenessen and built up their own crafts, called "Kötterhaus" or "Kotten" (a Kötter was a craftsman), in the Middle Ages as weavers of linen and from 1800 on of cotton. Many of them lost their existence when the looms were centralized. But in 1845, when the coal mines started in Essen, a lot of weavers found a new job there.
In the beginning of the 19th century there was a Kotten called "Kordt an der Landwehr". The leaseholder was Hermann Kordt and his wife Catharina. Herman´s brother Theodor (in the family tree he´s called Joes, a nickname maybe…) left the "Kotten an der Landwehr" together with his wife Anna Maria Schöttelkorp and worked as a weaver at a farmers house. Theodor´s son Johann Henrich and his wife Maria Catharina Evers left Altenessen after their marriage in 1840 and moved to Essen-Frohnhausen. They had 3 sons, 1. Heinrich Theodor, 2. Wilhelm (later William, your Great-Great-Grandfather) and 3. Johannes (my Great-Grandfather)
William´s first wife, Mary´s mother, was Maria Katharina Bramkamp. … Williams's older brother, Heinrich Theodor, was also married to a Bramkamp girl called Anna Maria." After his first wife's death in Germany, William married for the second time to Elisabeth Kurze. Sadly, this marriage also ended with the death of Elizabeth just four years later. In 1878 William again married, and his third wife was also a widow by the name of Wilhelmine Gertrud Bominghaus Borgsmoller (later changed to Borgsmiller). This Gertrud emigrated from Germany to Illinois and in the company of son and step-daughter Heinrich and Marie on the ship "Silesia"; landing at New York on December 28, 1881. The KORDT- BORGSMILLER family settled in the Murphysboro, Illinois area and descendants can be found there to this day. Little is still known on the SORGMANN line, but we believe that it too originated in the Essen, Westphalia, Germany area.
Following these German ancestors from immigration to Illinois, it appears that they first settled in the Murphysboro, Jackson County area. From early records we find that Mathias Sorgmann was first employed as a coal miner, but he ended his work life according to family lore, as a traveling salesman. Mathias and Mary Sorgmann (nee Kordt) were the parents of nine children, all born in the state of Illinois. Their fifth child was born with the name of Ignatius Joseph Sorgmann and he in turn married Marie Rosalie Hartmann in 1920 [for more information on Marie's Bohemian roots, visit the HARTMANN/VALTA section of this website.] My mother Edna Sorgmann was the only child and daughter of Ignatius Sorgmann and his wife Marie. Ignatius was a master molder at the Garland Stove Company during his adult life, in Detroit, Michigan.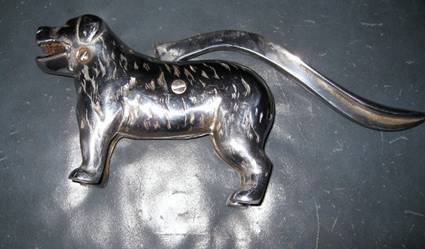 In 1998, his daughter and granddaughters still possess several fine examples of his metal working ability. These take the form of three nut crackers (a dog and two alligators), and a toad door-stop, which his granddaughter's all played with when they were children!
Marriage License: Issued January 18, 1887, Jackson county, Illinois
Marriage Certificate and License on file in Murphysboro, Jackson County, Illinois court
Marriage License for Minor (Mary Kordt, "age of 16, next birthday" with parents approval) on file. Marriage Return for the Illinois State Board of Health, to the County Clerk's Office (Jackson County), states:
Name of Groom: MATHIAS SORGMANN
Place of Residence: Murphysboro
Occupation: Miner
Age Next Birthday: 30 years; Color: White; Race: German
Place of Birth: Plachoel Stein---, Austria
Father's Name: VINCENT SORGMANN
Mother's Maiden name: JULIANA COSHUTUIC(?)
Number of Groom's Marriage: First
Full Name of Bride: MARY KORDT
Maiden Name, if a Widow, ----------
Place of Residence: Mount Carbon
Age Next Birthday: 16 years; Color: White; Race: German
Place of Birth: Essen, Westfalia
Father's Name: WILLIAM KORDT
Mother's Maiden Name: CATARINA BRAUNKAMP(?)/BRAUNKAUF
Number of Bride's Marriage: First
Married At: Murphysboro in the County of Jackson and State of Illinois, the first day of February, 1887
Witnesses to Marriage: HENRY BORGSMILLER & LIZZIE BORGERS (?)
Celebrant: FEDERICH BERGMANN
Naturalization Record:
[Source: extracted from the book #523, Naturalization Records of Jackson County, Illinois]
Sorgmann, Mathias, from Austria.
Declaration of Intention, 9 June 1887; Petition for Final Papers, 18 April, 1892; Final Oath, 18 April 1892.
Witnesses, John, Stoelzle and Henry Borgsmiller
Naturalization Records of the court of Jackson County, Illinois: on page 34 we have a petition which states that on June 9, 1887, Mathias Sorgman renounces all allegiance to Francis Joseph, Emperor of Austria, to whom he had originally been a subject. It is signed as Mathias Sorgman and noted with a 'X' made his mark, indicating that he probably could not write.
April 18,1892 court action for the final certificate of naturalization, noted in ledger on page 257; filed at the Jackson County court in Murphysboro, Illinois, concerning Mathias Sorgmann, and witnessed by John Stoltz & Henry Borgsmiller. On the same page # 257, dated February 1, 1892 is found the final certificate of naturalization for WILLIAM KORDT where he renounces allegiance to William II, Emperor of Germany; witnesses were Dominic Aimo & John McMahon.
Henry Borgsmiller, on page 557 of ledger, is found legal action of a minor for the petition, final oath and certificate of naturalization is filed on February 1, 1898. He swears that he emigrated from Germany and has been in the United States for the previous 11 years. He foreswears allegiance to William II, Emperor of Germany. Witnesses on his behalf are William Kordt & Rufus Hardy
Soundex Code: # S625
1900 Federal Census: St. Clair Co., IL (ED 111, Sheet 3B, Line 61)
Sorgman, Mathias, head, Born February 1845; parents and self in Germany; 56 years old, marriage 1 of 13 years; naturalized in 1882 and here in country for 18 years (thus arrived 1882); coal miner, can read, not write and can speak English; rents a home
Sorgman, Mary, wife; born February 1871; 29 years of age; parents & self born in Germany; 1st marriage of 13 years; 7 children born and 6 survive; can read and write and can speak English.
Sorgman, William, son; born June 1888, 12 years of age, born in IL; attends school
Sorgman, Gertie, daughter, born February 1890; 10 years of age, born in IL
Sorgman, Mathias, son; born October 1892, 8 years of age; born in IL
Sorgman, Ignatz, son; born September 1893; 7 years of age, born in IL
Sorgman, Anna; daughter, born July 1895; 4 years of age
Sorgman, Frank J.; son; born January 1890; age 4/12 months.
1910: Census record only found (to date) for Mary Sorgmann, who responds as widow-head of house. This is by the 23rd year of marriage for the couple, so they seem to have been less than amicably separated, as Mathias will not die until 1929, some ten years after the death of his wife Mary Kordt Sorgmann. Mary is reputed to have been employed as a cook at a local hospital, while Mathias seems to have "taken to the road" as a traveling salesman.
Gertrude (nee Sorgmann) Patient; 29
Sorgman, Ignatius, 27 years
Sorgman, Anna, 23 years
Sorgmann, Joseph, 13 years
Sorgmann, Frances,8 yo
1910 > Illinois > ST CLAIR > 7-WD BELLEVILLE Series: T624 Roll: 321 Page: 201
Sorgman, Mary, head, 39; appears to respond as a widow [note: husband Mathias dies in 1919]
Sorgman, William, 19; miner; coal mine
A sad ending for Mathias Sorgmann is recounted in the following news accounts:
[Source: East St. Louis, IL "Daily Journal", page 2, column 8; Monday evening, June 10, 1929:]
Man Swept from Railway Bridge at Belleville
Matthew Sorgman, 72, a retired coal miner, of Belleville, was instantly killed yesterday afternoon when he was swept from a railway bridge near the county seat by a train. The engineer of the Louisville & Nashville train, W. Hadley, of Evansville, Indiana, told Belleville authorities he did not see the aged man who was lying alongside the track on the bridge until it was too late to stop the train. Sorgman is survived by four sons and two daughters. Funeral arrangements had not been made pending the inquest.
[Source: East St. Louis, IL " Daily Journal", June 12, 1929, page 10 column 1:]
Funeral Services at Belleville for Retired Miner
Funeral services for Matthew Sorgman, 72, retired coal miner of Belleville, who was killed late Sunday when he was struck by a Louisville & Nashville train were held at St. Peter's cathedral in Belleville this morning with interment in Green Mount cemetery. Sorgman was struck while he lay on the end of the ties of a trestle. He was believed to have seen the train approaching and realizing that he could not run to either end of the structure in time to escape the train lay down on the end of the ties to let the train pass over him. The pilot of the engine knocked him from the trestle.
Burial in Belleville, Illinois at Green Mount, Cemetery. Information about the train accident, coroner's inquest and burial arrangements taken from microfilm copy of the newspaper: Daily Advocate, of Belleville, IL for June 10, 1929. Article also states that Mathias came to the US while a young man (death certificate states that he had been in the U.S. for 50 years; then look for immigration abt. 1879), and married at age of 32 years old[Marriage Certificate states he was soon to be "30" years of age].
The information on Mary Kordt Sorgmann's death certificate was given by Fred Patient, her son-in-law. The address at the time of her death was 518 St. Charles Street, Belleville, IL.
State wide IL death index listing:
SORGMANN MARY Female/White ? age certificate #0035723 DOD1919-10-16 ST CLAIR BELLEVILLE date filed 19-10-17
Death Certificate Information used for details on parents; address at time of death is 512 Walnut Street, Swansea, IL. (Information states that the length of residence in this city where death occurred was 4 years). Informant for death details is son-in-law Fred A. Patient of Belleville, IL
State wide IL Death Index information:
SORGMANN MATHIAS M/W ?age certificate #0820231 DOD1929-06-09 ST CLAIR ST CLAIR TWP filed:29-06-12
IGNATIUS JOSEPH SORGMANN is better known to us, as he is the father of Edna Elizabeth Sorgmann Williams, our mother and grandmother. Ignatius "called Ignatz by his wife Marie", was born September 3, 1893 at Du Quoin, Perry County, Illinois. On the 28th of October 1920 at St. Peter's Cathedral, in Belleville, Illinois he married Marie Rosalie Hartmann, born July 4, 1901 at Stary Osek, Bohemia. The marriage was performed by the Reverend William Hoff, and the witnesses were Frank Hartmann, brother of the bride, and Frank Tedlacek. To them was born a daughter, Edna Elizabeth Sorgmann on December 21, 1925. Ignatius was a veteran of World War I. From military records we find, that he enlisted June 1, 1917 from St. Louis, Missouri, and his Service Serial number was 1027985, and his Social Security number was 363-05-4791. Ignatius served in the U.S. Army during WW I, and his "First enlistment period" was "with Mexicans at Nogales, Arizona"; this "Period ending August 27, 1918)." Next, he was a "Sergeant with Company G, 86th Infantry; also 16 Company 4 Recon. BN, 162 D.B.; Muster out at Camp Pike, Arkansas March 11, 1919. Believed to have received a bonus for Military service from the state of Illinois; paid out March 11, 1919 at Muster for $157.97)." From his obituary notice, we find that he had been a member of the Roose Vanker American Legion Post in Detroit, Michigan, and a member of the Rough Riders Post #516. The Belleville newspaper The Daily Advocate" notes in an article, that on June 26, 1919 Ignatz J. Sorgman filed for discharge from service.
Sometime after Ignatius and Marie had celebrated their 25th wedding anniversary, Ignatius was injured in an automobile accident, and his health never fully recovered. In his late 50's, he became more incapacitated and was admitted to a Veteran's Hospital in Long Beach, California. Marie had moved her ill husband to that part of the United States, as that was the closest VA Hospital facility to Las Vegas, Nevada, where her daughter and family lived. Marie split her time between Las Vegas and Los Angeles during these years. Travel by train took her for visits with her daughter Edna, and her growing family in Vegas for "break times", and then primarily living in an apartment as a boarder of landlady Mrs. Anderson (whom we older grandchildren came to call "Grandma Anderson" from our visits to L. A.), while she commuted back and forth to the V. A. hospital where her husband was being treated. After 3 years, 4 months, 3 weeks and 3 days spent in this hospital, Ignatius Sorgmann passed from this earth on December 21, 1954. This was the occasion of his daughter Edna's 29th birthday. Burial was at Memory Gardens, Las Vegas, Nevada. The new widow Marie eventually moved to Las Vegas to be with her daughter, son-in-law Donald Williams and her five granddaughters. We had so many wonderful years with Gram as we all grew to maturity, losing her in her 90th year (August 1991). What a life she led, often marveling that she immigrated on the famous steamship "Carpathia" in 1904. She started her life in a time of horse & buggy travel and lived long enough to see a man land on the moon. What a fan she was of "Star Trek" and now she is out there enjoying the "celestial dance".