The Souhrada Family Website
Jiri Souhrada – Our connection in the Czech Republic
---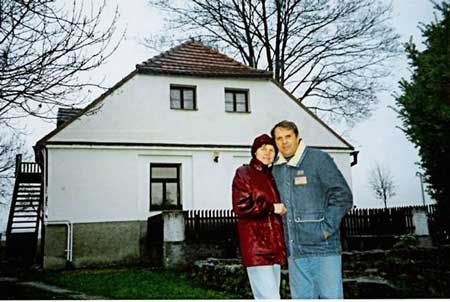 Věra a Jiří Souhrada, Písek Czech Republic
---
Jiri Souhrada was born in 1946 in Pisek, Czech Republic, the second of two sons of Jan Souhrada and Albina (Sediva) Souhradova. Jiri and his wife Vera (Truhlar) reside in Pisek, Czech Republic.
Jiri has done extensive genealogical research in the Czech Republic. If you require assistance in researching your Czech ancestry, contact Jiri for further information.
If planning a visit to the Czech Republic, Jiri and Vera offer accommodations at their "Souhrada Country House". They can also arrange for bicycle tours, or provide other assistance to make your visit to the Czech Republic a pleasant and memorable experience. See below for contact information and more details.

For a video of scenic Pisek CZ >> https://www.youtube.com/watch?v=5HAc8WpNU-Q&feature=share

CZECH REPUBLIC HOLIDAY
A new and exciting experience awaits you !
SOUHRADA'S "COUNTRY HOUSE"
The Czech Republic is a fascinating country filled with many historic towns, cities and castles, as well as beautiful lakes, friendly people, good famous Czech beer and wonderful country and folk music everywhere.
Whether your stay is short or long, you will find the vacation of a lifetime at our Souhrada "Country House". We are only 60 miles south of Prague. You can easily get to Pisek by car, bus or train station. Or we will arrange to pick you up at either the Prague airport or train. We think you will like our Country House. It has 3 bedrooms, kitchen, bath, party room, a grill and picnic area. A grocery and small restaurants are nearby.
Weather in the Czech Republic is comparable to the upper Midwest United States. In summer we usually enjoy warm and sunny days, ranging between 75 and 85 degrees.
The Souhrada "Country House" is surrounded by exciting things for you to do and see!
Historic villages, castles, lakes, shopping, sightseeing, or even searching for your family roots—we can help you plan your visit with us—no problem!!!
The above are only some of the things waiting for you when you visit us. We have many more things and places for you to visit. Castles Zvikov, Orlik, Hluboka, Cesky Krumlov, Blatna, Karlstejn, Konopiste and more.
To arrange for your Czech holiday at Souhrada "Country House", contact us by letter or fax:
Mr. Jiri Souhrada
Smrkovicka 2219
397 01 PISEK
Czech Republic
From USA: phone and fax: 011-420 731 135 617
email  souhrada@atlas.cz

Tell us what dates you would like to visit us, (time, date and place), when you are arriving, airline and flight number, names of every one in your group
---