Hosted by Dalyn and Phyllis Souhrada at their farm home in rural Lime Springs, Iowa
The second Souhrada family reunion was hosted by Dalyn & Phyllis Souhrada and family at their farm home in rural Lime Springs, Iowa on July 24, 1982. This is the original homestead of Vaclav & Katherine Souhrada. Forty-nine Souhrada family members attended the 2nd Reunion of Souhrada cousins that was held on the farm land where all the children of Vaclav & Kathryn Souhrada were born and raised.
God gave us a beautiful summer day for the gathering of cousins on this farmland where our Souhrada parents were born and raised. Our grandfather Vaclav and Grandmother Kathryn Bicon were married in Protivin, Iowa and our grandfather brought his bride to live on their homestead claim.
This homestead claim was originally granted to a man who was in the New York Military War of 1812. He sold it to a land sales man and Vaclav and Kathryn bought it from him. After Vaclav and Kathryn died, the land was then owned by one of their sons and his wife, James and Elizabeth Sadlo Souhrada. Their son Dalyn became the next owner and moved onto the farm in 1961. This farm became a CENTURY FARM November 15, 1977. Dalyn has in his possession copies of original documents pertaining to this farmland - one signed June 1, 1885 by Abraham Lincoln and the second signed August 1, 1885 by James Buchanan.
Vaclav and Kathryn Souhrada had 31 grandchildren. Some of these had passed away when the 1st cousin gathering took place last year at the home of George and Leota Campbell in Bloomington, Minnesota. For that gathering we attempted to unite the seventeen cousins. Twelve of the seventeen, plus their spouses and children attended. Vaclav and Kathryn's last living child, Libbie Prochoska was also a part of the group. For this reunion invitations were sent to Vaclav and Kathryn's only living daughter, Libbie Souhrada Prochaska and their grandchildren and great-grandchildren to come to this Original Souhrada Family Farm for a potluck noon meal and family get together.
July 24, 1982 was a beautiful sunny summer day - a perfect outdoor picnic day for our gathering. A windstorm the year before demolished the machine shed on this farm and Dalyn's replacement of it proved to be a great 'out of the noonday sun' place for setting up picnic tables for our potluck meal. What a festive day it was for so many of us to meet for the first time - or for some of us to be together again.
Libbie Prochaska, Vaclav and Kathryn's only living daughter and thirteen of their seventeen living grandchildren, plus their spouses and children were a part of the 49 Souhrada's who attended. Having so many generations gathered together for the first time proved to be a fun filled, exciting day for all. Many had to leave in the afternoon but some stayed on to enjoy the late afternoon and evening together - an 'aftergIow time'. This farmland had a quarry and the quarry water was stocked with fish. Some picked up fishing rods to see who could bring up the biggest catch, some dove in for a refreshing swim, and many just enjoyed this added time by getting better acquainted.
God is greatly blessing this Souhrada Family with his love, peace and joy!
By Leota Campbell
The 49 people who attended were:
- George & Leota Campbell – Bloomington, MN
- Rodney, Deanna, Keith, Lisa, and Brenda Comstock
- Mary Ann Goldsmith – Evansdale, IA
- Marlys, Charlene, Danny, Kenneth & Leon Gronwoldt – Riceville, IA
- Allen & Crystal Hemann – Riceville, IA
- Viola Leslie – Lime Springs, IA
- Delbert & Anna Merrill – Spring Valley, MN
- Harry & Viola Noska – Park Rapids, MN
- Lester & LaVonne Noska – Springfield, IL
- Libbie Prochaska – Riceville, IA
- Bill & Hazel Rassman – Cresco, IA
- Harold & Darlenne, Ronda, Michelle & Brian Seidel – Lime Springs, IA
- Dalyn & Phyllis, Eric, Rachel & Marcia Souhrada – Lime Springs, IA
- Emil Souhrada – Chester, IA
- Frank Souhrada – Cresco, IA
- Johnny & Hope Souhrada – Lime Springs, IA
- Marketta, John & Pam Souhrada – Lime Springs, IA
- Emma Stevens – Waterloo, IA
- Plus six of Marlys Gronwoldt's grandchildren
---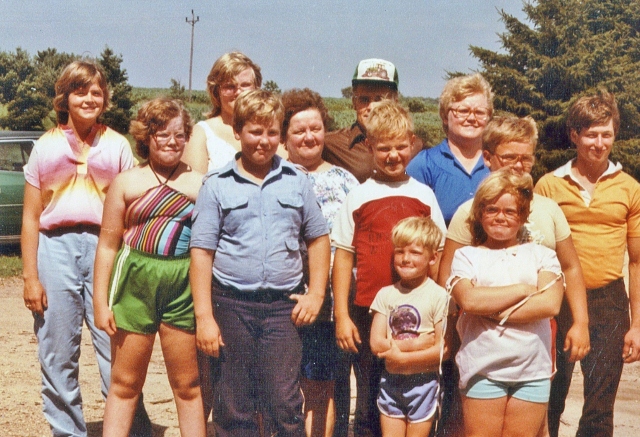 ---
To view the entire picture album from this year's reunion, click here.
---