Emil and Ardis Souhradaís daughter, Jane came to the first cousin reunion at the home of George & Leota Campbell in Bloomington, MN on June 28, 1981. Janeís parents were not able to attend our 1st cousin gathering but thankfully she came representing them. The family on Janeís motherís side held yearly reunions so Jane was excited to be part of her fatherís cousins gathering. She had heard about reunions held many, many years ago in the Oxford Junction, Iowa area and found the names and addresses of some of those people and sent invitations for this 3rd gathering of Souhradaís. What a blessing this was for our Souhrada reunions!

The setting for the 3rd Annual Souhrada Familyís Reunion Celebration was the farm home of Janeís parents, Emil and Ardis Souhrada. This lovely home is nestled beside a country road and surrounded by Ardisí beautiful flower gardens. It was a bright, sunny, hot summer day (high in the 90ís). Yes, a hot day it was -- but no one seemed to mind. Excitement was in the air - newcomers from another branch of the Souhrada Tree had joined us! The Flynn & Vanicek families who stem from the Oxford Junction area where Souhrada family gatherings were held in past years responded to Janeís invitation. The excitement of family members being together again & meeting newcomers from another branch of the Souhrada Family Tree overshadowed the temperature.
Elizabeth Wosoba Vanicek of Oxford Junction, Iowa received Janeís invitation and responded by bringing her family of three generations! Every age group was represented, making this gathering of thirty-nine members very special. What an exciting day this was for all of us. What started out as a 1st cousin reunion two years ago so we could come to know each other had now branched out into Souhrada family members attending who had attended reunions many years ago in the Oxford Junction area. Welcoming this newfound branch of our family made this a very special delightful day.

Elizabeth Wosoba Vanicek of Oxford Junction, Iowa, held the honor of being the oldest member attending and Jonathan Souhrada of Sargent, Minnesota the youngest. Besides those coming from the local area and the Twin Cities in Minnesota, the longest distances traveled were by Gordon & Velma Flynn, their daughter-in-law Barb and her daughter Anne from Davenport, Iowa, Elizabeth Wosoba Vanicek of Oxford Junction, Iowa and John & Nelda Vanicek and their daughter, Elizabeth from Muskego, Wisconsin.

A few members of the Souhrada family were unable to attend the reunion on Saturday, but they were in the Cresco, Iowa area on Sunday and shared in the excitement of a gathering at the home of Bill and Hazel Rassman over coffee and a plate of Hazelís famous cookies. At that gathering were Bill and Hazel Rassman, Dalyn and Phyllis Souhrada, Viola and Harry Noska, John and Hope Souhrada, and George and Leota Campbell.

By Leota Campbell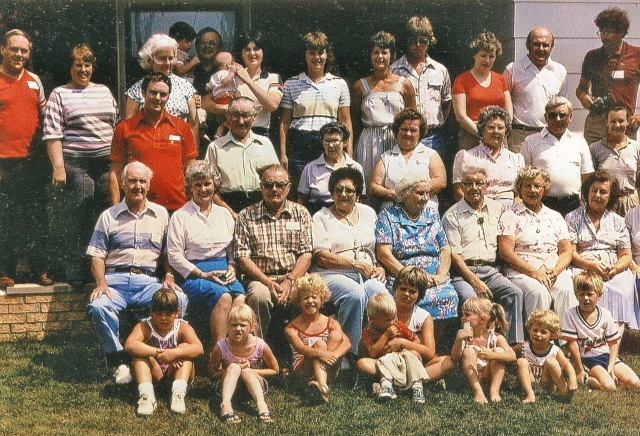 38 of the 39 Souhrada family members who attended (Barb Flynn took the picture)
To view the entire picture album from this year's reunion, click here.
---
Thirty-nine family members attended:
Iowa:
Gordon & Velma Flynn
Barb & Anne Flynn
Marlys Gronwoldt
Viola Leslie
Emil & Ardis Souhrada
Tom & Marcia and Susanne & Justen Negel
Bill & Hazel Rassman
Frank & Louise Souhrada
Emma Stevenson
Minnesota:
George & Leota Campbell
Rick & Cheryl and Colleen, Kelly & Molly Lamon
Rich & Arlene and Barto Leslie
Jane Souhrada & Ernie Gunderson
Delbert & Anna Merrill
Wane & Becky and Jonathan & Kelby Souhrada.
Wisconsin:
John & Nelda and Elizabeth Vanicek.