Our 5th Souhrada Family Reunion was again a time for rejoicing. The word of our gatherings had spread and this year sixty-nine people attended. Forty-nine were the decedents of six of Vaclav & Kathryn Souhrada's children and twenty members from another branch of the Souhrada Tree were more than welcomed in. These twenty were from the Oxford Junction, Iowa area where Souhrada reunions were held years ago. They either knew of the excitement of the family reunions or had personally attended them.
Andrew Brevig, only 20 days old, took the honor of being the youngest of this Souhrada family to ever attend. He came with his 4-year-old brother, Carl and his parents Westen & Charlotte (Souhrada) Brevig. Charles R. & Anna M. Souhrada are his proud grandparents.
Elizabeth Wosoba Vanicek, who's birthday is December 19, 1896, took the honors of being the oldest of the grandmothers present and also someone who had attended Souhrada gatherings held many, many years ago.
Food was brought by all and completely covered two long picnic tables. There couldn't have been a more festive potluck smorgasbord than was set before us for our noon meal. The food was delicious, and the fellowship was delightful as we shared with one another the happenings in our lives.
Dalyn Souhrada who's farm home was close to the Town Hall where our reunion was held drove his "collector's item" Model T Ford to the reunion grounds so we could all have our family pictures taken in it. What fun we had! The following day, August 4th, fourteen of the members of the Souhrada family who were still in the area gathered for Sunday Brunch at the Davis Corners Restaurant. Again it was a time of fun and laughter - a time of coming to know each other better as we shared the happenings of our lives.
By Leota Campbell
---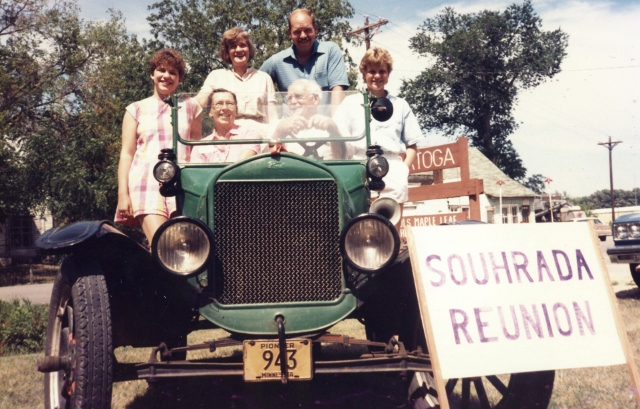 (Standing L-R) Robin, Mary Jo, David, and Emily Souhrada
(Seated) Hope and John Souhrada
To view the entire picture album from this year's reunion, click here.
Seventy-one family members attended the Saturday event:
Westen, Charlotte, Andrew & Carl Brevig - Chatfield MN
George & Leota Campbell - Bloomington MN
Velma Vanicek Flynn - Davenport IA
Harold, Julianna (Souhrada), Amber & Jason Fravel - Utica MN
John, Lorena, Jacob & Joshua Grant - Preston MN
Marlys & Marvin Gronwoldt - Riceville IA
Lavine (Rassman) Greenslade - Cresco IA
Viola Leslie - Lime Springs IA
Loren Leslie - Minnekonta MN
Delbert & Anna & Merrill - Spring Valley MN
Debbie Johnson - Decorah IA
Gary, Rosemary & Vickie Knutson - Decorah IA
Allen, Pam & Allison Kruegar - Lime Springs IA
Marcia, Justin & Suzie Nagel - Chester IA
Kelly Sacquitne - Decorah IA
Harold, Darlene, Brian & Michelle Seidel - Riceville IA
Dalyn, Phyllis & Rachel Souhrada - Lime Springs IA
Darrell, Donna, Anthony & Darrell Jr. Souhrada - Lime Springs IA
Halley Souhrada - Lime Springs IA
Charlie, Anna & Shawn Souhrada - Preston MN
Dave, Mary Joe, Emilie & Robin Souhrada - Waverly IA
EmiI, Ardis & Jane Souhrada - Chester IA
Frank & Louise Souhrada - Cresco IA
Jerry & Linda Souhrada - Cresco IA
Johnny & Hope Souhrada - Lime Springs IA
Marketta, Mike & John Souhrada - Lime Springs IA
Emma Stevenson - Waterloo IA
Lillian Vacek - Oxford Junction IA
Anton Vanicek - Muscatine IA
Elizabeth Wosoba Vanicek - Oxford Junction IA
Edwin & Betty Willimack - Oxford Junction IA
13 Family Members and a friend attended the reunion Sunday Brunch:
George & Leota Campbell
Viola & Loren Leslie
Delbert & Anna Merrill
Eunice Nelson (friend of Dalyn Souhrada)
Viola Noska
Dalyn, Phyllis & Rachel Souhrada
John & Hope Souhrada
Emma Stevenson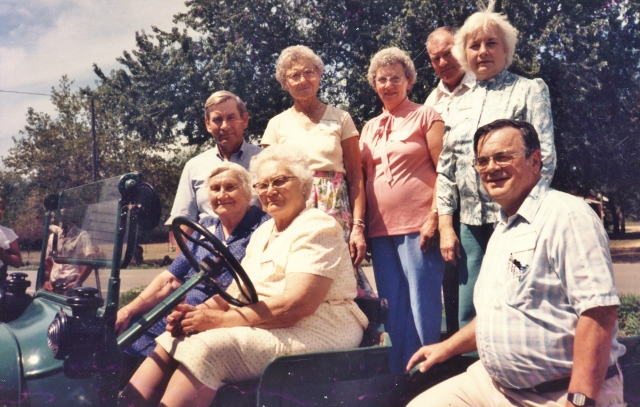 (Back row) Anton Vanicek, Edna Willimack Henningsen, Betty Pegorick Willimack, Edwin Willimack, Velma Vanicek Flynn
(Front row) Elizabeth Wosoba Vanicek, Lillian Willimack Vacek and Gordon Flynn
---