1990 – The 10th Souhrada Family Reunion
Maquoketa Community Center, Maquoketa, Iowa
Sunday, August 5th, 1990
Hosted by Anton, John, and Nelda Vanicek; Velma, Barbara, and Gordon Flynn; Penny Souhrada, Richard and Anita Mason; Connie and Sarah Schiffert; Bonnie and Leota Campbell
---
Seventy-five members attended our 10th reunion this year. Present were many two-generation families and for one family there were three. People came from near and far with license plates reading: Colorado, Florida, Illinois, Iowa, Minnesota & Wisconsin.
Many people played active parts in this reunion. Anton, John & Nelda Vanicek, Gordon & Velma Flynn, Barbara Bollmann Flynn, Anita & Richard Mason and Penny Souhrada selected the site, sent the invitations, designed the Honor Awards, made direction signs and placed them in essential places to lead us to the Maquoketa Community Center. They also decorated the Center with Welcome Signs. Connie Schiffert registered family members on their arrival. Elizabeth Vanicek & Sarah Schiffert greeted the young children and teenagers and registered them for swimming in the pool that afternoon. They also had the adults sign up for a chance of winning a copy of the soon to be printed Souhrada Family Tree.
Receiving food brought by members and arraigning it for our potluck meal kept Bonnie & Leota Campbell busy. Our reunion began as we gathered to eat the great variety of food that covered three tables. Our merriment began when we either received or watched others receive awards given out by our Master of Ceremonies, Penny Souhrada with the help of Elizabeth Vanicek & Sarah Schiffert. Honor Awards were given for being:
The oldest person attending the reunion - Lydia Collins Ethridge of Oxford Junction, IA
The youngest - Scott Willimack, son of Gary & Tammy Willimack of Oxford Junction, IA
The parent of the most children - Eleanor Henak Bicknese of Oxford Junction, IA
The grandparent & great grandparent of the most descendents - Anna Merrill of Spring Valley, MN
The most recently married couple - Danny and Mona Feuss of Oxford Junction, IA
The longest married couple - Frank & Dorothy Souhrada, Jr. of Greeley, CO
For traveling the longest distance - Bonnie Campbell and Connie & Sarah Schiffert - Davie, FL

Ann Dusanek Hansen of Oxford Junction was the contest winner of a copy of the soon to be printed Souhrada Family Tree. Eleanor Bicknese and Ann Hansen brought and displayed a handmade quilt that is to be raffled off at the Sacred Heart Catholic Church Fall Festival.
It was a fun filled day. While we adults fellowshipped our young children and teenagers got better acquainted as they played and swam together in the pool. This was a wonderfully joyful day for many reasons:
· Good preparation by many
· Penny Souhrada gave awards to people allowing us to know more about our Souhrada family
· Our teenagers took an active part
· We had a play area, the swimming pool, that became a playground for our young children and teenagers to get better acquainted
By Leota Campbell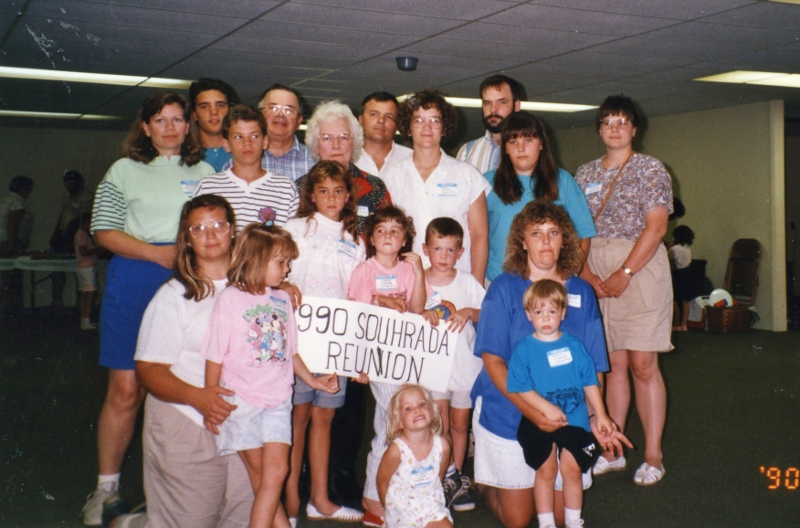 The Gordon and Velma Flynn Family
To view the entire picture album from this year's reunion, click here.
75 Souhrada family members gathered at the Maquoketa Community Center, Maquoketa, Iowa
Eleanor Bicknese -Oxford Junction, IA
Bonnie Campbell - Davie, FL
Leota Campbell - Bloomington MN
John Chesney - Zwingle, IA
Dorothy Chesney - Zwingle, IA
Maureen Currier - Davenport, IA
Marta Currier - Davenport, IA
Zacary Currier - Davenport, IA
Linda Eaton - East Dubuque, IA
Duane Eaton - East Dubuque, IA
Garrett Easton - East Dubuque, IA
Lydia Ethridge - Oxford Junction, IA
Barb Erickson - Davenport, IA
Mark Erickson - Davenport, IA
Nathan Erickson - Davenport, IA
Leah Erickson - Davenport, IA
Mona Feuss - Oxford Junction, IA
Barb Flynn - Davenport, IA
Paul Flynn - Davenport, IA
Jon Flynn - Davenport, IA
Anne Flynn - Davenport, IA
Gordon Flynn - Davenport, IA
Velma Flynn - Davenport, IA
Tom Flynn - Maquoketa, IA
Betsy Flynn - Maquoketa, IA
Sarah Flynn - Maquoketa, IA
Hanna Flynn - Maquoketa, IA
Colby Flynn - Davenport, IA
Peter Flynn - Davenport, IA
Ann Hansen - Oxford Junction, IA
Gary Leonard - Davenport, IA
Patricia Lyon - Wyoming, IA
Anita Mason - Maquoketa, IA
Richard Mason - Maquoketa, IA
Dalyn Meade - Schauburg, IL
Anna Merrill - Spring Valley, MN
Viola Noska - Park Rapids, MN
David Paulsen - Oxford Junction, IA
Jeanne Paulsen - Oxford Junction, IA
Daniel Paulsen - Oxford Junction, IA
Kim Paulsen - Oxford Junction, IA
Leroy Powelka - Marion, IA
Connie Schiffert - Davie, FL
Sarah Schiffert - Davie, FL
Joyce Slouha - Oxford Junction, IA
Arthur Souhrada - Milwaukee, Wl
Dave Souhrada - Wayerly, IA
Frank Souhrada - Greely, CO
Dorothy Souhrada - Greely, CO
Frank Souhrada III - Kaysville, UT
John Souhrada - Lime Springs, IA
Hope Souhrada - Lime Springs, IA
Helen Souhrada - Milwaukee, Wl
Michael Souhrada - Le Claire, IA
Penny Souhrada - Le Claire, IA
Janel Stevens - Tipton, IA
Emma Stevenson - Waterloo, IA
Peter Stange - Walnut, IA
Bob Vacek - Wyoming, IA
Janet Vacek - Wyoming, IA
Lillian Vacek - Wyoming, IA
Renee Vacek - Anomosa, IA
Rod Vacek - Wyoming, IA
Anton Vanicek - Muscatine, IA
John Vanicek - Muskego, Wl
Nelda Vanicek - Muskego, WI
Elizabeth Vanicek - Muskego, Wl
Gary Willimack - Oxford Junction, IA
Tammy Willimack - Oxford Junction, IA
Mitch Willimack - Oxford Junction, IA
Scott Willimack - Oxford Junction, IA
Edwin Willimack - Oxford Junction, IA
Betlv Willimack - Oxford Junction. IA
Leota Campbell, Sarah and Connie Schiffert, Bonnie Campbell, Phyllis Souhrada
---