1993 – The 13th Souhrada Family Reunion
Saturday, August 7th, Davis Corners Restaurant, Davis Corners, Iowa
Sunday, August 8th, Champlin Hall, Cresco Theater, Cresco, Iowa
Hosted by Viola Noska, Anton Vanicek, and Leota Campbell
---
The Souhrada family began their 13th annual reunion Saturday night over dinner served at the Davis Corners Restaurant. Nineteen Souhrada family members and 2 guests attended. One of these guests, Lenka Bockova, is a newfound friend of Viola Noska from the Czech Republic.

Sunday 37 family members plus 3 guests gathered to share in our potluck meal and fellowship at noon in Champlin Hall. After dinner Anton Vanicek and Viola Noska shared their adventurous trip this year when they along with LaVonne Noska, Renee and Jay Cariveau, and Frank and Linda Souhrada traveled to the Czech Republic to visit our new found Souhrada family members, Jiri and Vera Souhrada and their family. Anton knowing one of the greatest desires of the people in the Czech Republic is to learn to speak English, recruited people from the group to teach there in their school. Viola and LaVonne thrillingly responded to the call. They were brought up speaking only Bohemian until they entered school so this was an exciting call for them.

During one of VioIa's evening classes one of her students, Lenka Bockova told Viola she very much wanted to come to the United States but didn't have a sponsor or a place to live. Viola with her gift of hospitality not only sponsored her but also welcomed her as a guest in her home for over 2 months upon her arrival in the USA. Our reunion took place during Lenka's stay. She became our special guest and spoke a bit of what living in the Czech Republic is like.

Last year Jiri & Vera Souhrada (a new found branch of our family tree) came from the Czech Republic and attended our reunion. Unable to attend this year, they sent three pieces of hand-embroidered wall hangings (splash cloths – that hang on the wall behind a wash basin). These were made by Souhrada's over 100 years ago, and were taken from Dolni Novosedly #2. This is the original homestead of many generations of Souhrada's, located about 10 miles from Pisek, Czech Republic. It was decided these three pieces would be donated to the National Czech and Slovak Museum in Cedar Rapids, Iowa.

It is Jiri and Vera's desire to join us next year as we celebrate our 14th Annual Souhrada Reunion. Hopefully they will be there.

By Leota Campbell
---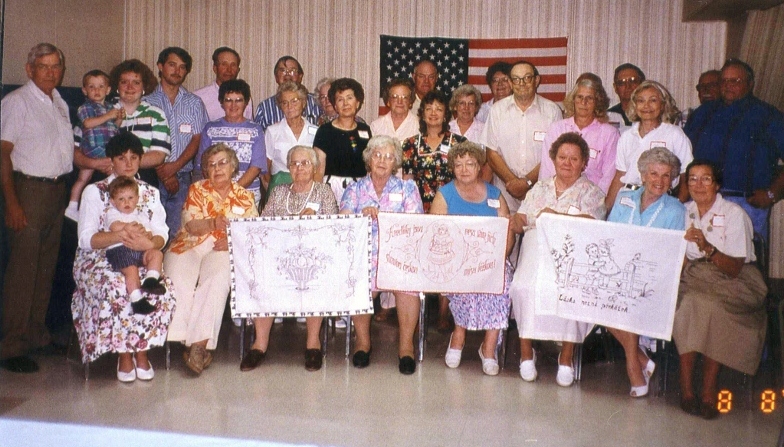 Splash Cloths sent by Jiri and Vera Souhrada
Jiri and his wife Vera Souhrada (new found branch of our family tree and 3rd cousin to Frank and Peter Souhrada) sent 3 hand embroidered wall hangings (splash cloths that hang on the wall behind a wash basin). They were made by Souhrada's over 100 years ago and were taken from Dolni Novosedly #2. It was decided that these wall hangings would be donated to the National Czech and Slovak Museum in Cedar Rapids Iowa.
To view the entire picture album from this year's reunion, click here.
SATURDAY, AUGUST 7, 1993
Saturday Night Dinner Davis Corners Restaurant, Davis Corners, Iowa
19 Family Members and 2 Guests Attended:

Lenka Bockove - Czech Republic
Deanna Comstock - Excello, MO
Rodney Comstock - Excello, MO
Leota Campbell - Edina, MN
Gordon Flynn - Davenport, IA
Velma Flynn - Davenport, IA
Marlys Gronwoldt - Riceville, IA
Viola Leslie - Lime Springs, IA
Leonard Mayer - Riceville, IA (friend of Marketta Souhrada)
Anna Merrill - Spring Valley, MN
Viola Noska - Park Rapids, MN
Aaron Souhrada — Lime Springs, IA
Dalyn Souhrada — Lime Springs, IA
Phyllis Souhrada - Lime Springs, IA
Hope Souhrada - Lime Springs, IA
John Souhrada - Lime Springs, IA
Jerry Souhrada - Cresco, IA
Linda Souhrada - Cresco, IA
Marketta Souhrada - Riceville, IA
Janel Stephens - Tipton, IA
Anton Vanicek - Muscatine, IA

SUNDAY, AUGUST 8, 1993
Champlin Hall, Cresco Theater, Iowa
37 Family Members and 3 Guests Attended:

Lenka Brockova - Czech Republic
Leota Campbell - Edina, MN
Deanna Comstock - Excello, MO
Rodney Comstock - Excello, MO
Derek Fuess - Oxford Junction, IA
Mona Fuess - Oxford Junction, IA
Gordon Flynn - Davenport, IA
Velma Flynn - Davenport, IA
Laverne Greenslade - Cresco, IA
Marlys Gronwoldt - Riceville, IA
Edna Henningsen - Onslow, IA
Gary Knutson - Decorah, IA
Rosemary Knutson - Decorah, IA
Eric Knutson - Decorah, IA
Douglas Knutson - Decorah, IA
Tommy Knutson - Decorah, IA
Viola Leslie - Lime Springs, IA
Patricia Lyon - Wyoming, IA
Anna Merrill - Spring Valley, MN
Eunice Nelson - Lime Springs, IA (Friend of Dalyn Souhrada)
Viola Noska - Park Rapids, MN
Bill Rassman - Cresco, IA
Hazel Rassman - Cresco, IA
Delbert Rassman - Cresco, IA
Cyrrel Radechel - Grundy Center, IA
Elaine Radechel - Grundy Center, IA
Leonard Sonkyys - Cresco, IA (Friend of Dalyn Souhrada)
Dalyn Souhrada - Lime Springs, IA
Phyllis Souhrada - Lime Springs, IA
Aaron Souhrada - Lime Springs, IA
Cherie Souhrada - Grundy Center, IA
Charles Souhrada - Fountain, MN
Hope Souhrada - Lime Springs, IA
John Souhrada - Lime Springs, IA
Marketta Souhrada - Riceville, IA
Janel Stephens - Tipton, IA
Lillian Vacek - Oxford Junction, IA
Anton Vanicek - Muscatine, IA
Betty Willimack - Oxford Junction, IA
Edwin Willimack - Oxford Junction, IA
Anton Vanicek recording an interview by Leota Campbell of Velma Flynn
---