1994 Ė The 14th Souhrada Family Reunion
Saturday, August 13th, Cedar River Family Restaurant, Tipton, Iowa
Sunday, August 14th, Dave and Janel Stephens Home (Brunch)
Tipton Hawkeye Bank (Pot Luck Dinner)
Hosted by Dave and Janel Stephens
---
The Souhrada family gathered in Tipton, Iowa for their 14th annual reunion on August 13th and 14th. Eighteen members started the celebration Saturday evening with dinner at the Cedar River Restaurant In Tipton, Iowa. Sunday morning Dave and Janel Souhrada Stephens welcomed us into their home for brunch and willingly allowed us to tour their lovely home that is surrounded by JaneIís beautiful flower gardens.

For our noon potluck meal 74 family members met at the Hawkeye Bank. In Tipton. This was followed by a full of fun time that was sparked by our auctioneers, Dave Stevens and Linda Souhrada and Viola Noska who served as bookkeeper. Members brought the items that were auctioned and the money collected helped pay expenses of the reunion. A drawing for prizes also added to the excitement of the day. At the close of the reunion Dave and Janel again graciously opened their home for all who didnít have to hurry away.

This year's reunion became a special celebration because members of our newfound Vanicek family from the Czech Republic were here to celebrate with us. They are Vaclav, Rodka, Ronda and Thomas Vanicek all cousins of Anton and John Vanicek and Velma Vanicek Flynn. Viola and LaVonne Noska lived with this Vanicek family last year in the Czech Republic while they were there as volunteers to teach English to the Czech students. Another special guest was Carol Novotny Coburn from Chaska, Minnesota who recently returned from the Czech Republic after teaching English in the school there. Vaclav and Rodka Vanicek are in this country to set up an exchange program for high school students. They, along with Anton Vanicek were also recruiting teachers to teach in their country.

By Leota Campbell
To view the entire picture album from this year's reunion, click here
75 Family Members and Guests Attended:

Special guests were:
Vaclav, Rodka, Ronda and Thomas Vanicek from the Czech Republic
Carol Novotny Coburn from Chanhassen, MN
Souhrada family members attending:
Leota Campbell - Edina, MN
Sue Conkin - Atalissa, IA
Maureen, Marta and Zackary Currier - Davenport, IA
Gordon, Velma, Barb, Leah, Tom, Betsy, Sara, Hanna, Kathy and Peter Flynn - Davenport, IA
Rick, Gretchen, Whitney and McKenzie Flynn - Eldridge, IA
Edna Henningsen - Onslow, IA
Rosemary Knutson - Decorah, IA
Kathy Leeper - Oxford Junction, IA
Patricia Lyon - Wyoming, IA
Richard Lyon - Atalissa, IA
Anna Merrill - Spring Valley, MN
Donna, Brook and Tyson Noska - Victorville, CA
LaVonne Noska - Springfield, IL
Viola Noska - Park Rapids, MN
Diane, Joe, Aimee, Elizabeth and Lucas Powelka - Sun Prairie, WI
LeRoy and Virginia Powelka - Maquoketa, IA
Arthur Souhrada - Milwaukee, WI
Dave and Cherie Souhrada - Grundy Center, IA
Frank and Linda Souhrada - Brooten, MN
John and Hope Souhrada - Lime Springs, IA
Marketta Souhrada - Riceville, IA
Marlys Souhrada - Riceville, IA
Rita Stange - Walnut, IA
Dave and Janel Stephens - Tipton, IA
Bob and Janet Vacek - Wyoming, IA
Lillian, Lori, Jim and Greg Vacek - Oxford Junction, IA
Anton Vanicek - Muscatine, IA
John Vanicek - Muskego, WI
Dale and Janine Willimack - Le Claire, IA
Edwin, Betty, Gary, Tommy, Mitch and Scott Willimack - Oxford Junction, IA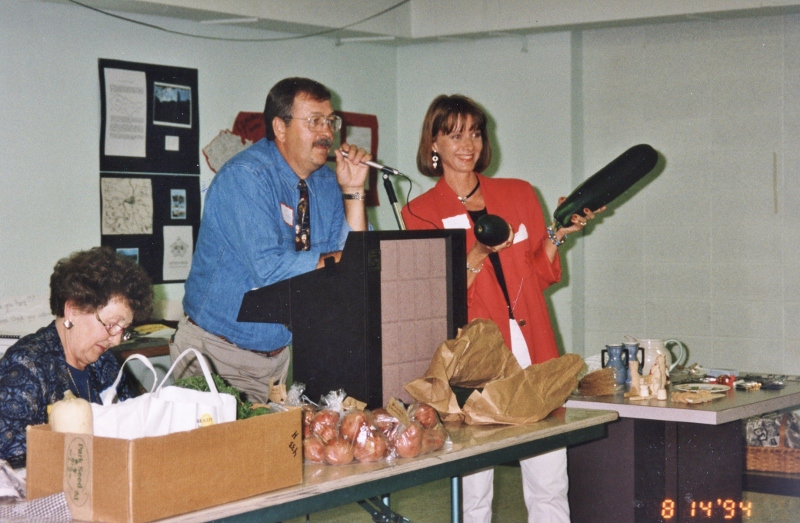 Viola Noska keeps records of purchases while Dave Stephens and Linda Souhrada auction off this year's donated items.
To view the entire picture album from this year's reunion, click here