To view the entire picture album from this year's reunion, click here
August 9th and 10th were the celebration days for the Souhrada Family's 17th Annual Reunion with activities beginning Saturday noon with an unscheduled, spur of the moment lunch for early arrivals at The Old World Inn in Spillville, Iowa. That dining room was filled with joy and laughter as twelve family members gathered to enjoy being together again. Thirty two members congregated Saturday evening for dinner at Schooter's Restaurant in Cresco, Iowa - and 9 am Sunday morning found many gathered at Champlin Hall to start the day with a Kolache Brunch.

By noon sixty family members had assembled, all bringing delicious food for our potluck dinner that covered three long tables - plus a table covered with deserts! As we gathered for our meal Leota Campbell thanked our Lord Jesus for bringing us there safely; for giving us the blessing of being able to gather so we could to come to know each other better, and for the food we were about to enjoy. After dinner Dave Stephens, with his God given gifts of joy and love of people introduced and interviewed the family members as Anton Vanicek recorded all on video.

While being interviewed, Joe Souhrada told of an exciting adventure that had happened this past year. -- Joe and Lue Souhrada along with Joe's brother, Edward J. and his wife Elsie attended the reunion for the first time last year and afterwards searched a cemetery in Chicago for their grandparents' tombstone. Bringing with them the dates on this cemetery stone, they traveled to the Czech Republic and met with Jiri Souhrada, our new found Souhrada family member. During Joe and Lue's visit there Jiri found the dates on this stone provided the clue that allowed Jiri to find the link to our Souhrada Family Tree in the Czech archives. What a celebration time that was!

The auction of items donated by family members was a joyful time for all thanks to our fun loving auctioneers, Dave Stephens and Linda Souhrada. A bit of anxiety was evident at times for those bidding, and at times a bit of hilarity was in the air as everyone watched and listened to the vying for each article. Viola Noska recorded all the 'right prices' that Dave Stephens skillfully brought about.

Anna Souhrada Merrill, who moved to a nursing home in Chatfield, Minnesota this past year, has attended all but two reunions and thanks to her daughter and son-in-Iaw, Deanna and Rodney Comstock, she attended this one too, wheel chair and all. Deanna and Rodney Comstock traveled from their home in Missouri to Minnesota to get Anna and then back to Iowa for the reunion. The youngest in attendance was Dave and Robin Souhrada Rogers' seven weeks old daughter, Shelby Sue. David Rassman and his sister Dianne and Dianne's two children, Patchoula and Rex, and granddaughter, Direasa, were first time attendees Evelyn Souhrada Iacullo was not only a 15th timer but also she and her brother and sister-in-law Joseph A. and Luella Souhrada traveled the greatest distance to attend.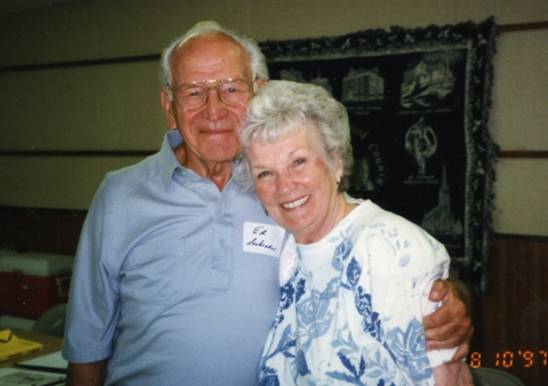 Ed Souhrada and Leota Campbell
---
Reunion Volunteers…
Reunions don't just happen....The success of this fun filled 17th annual Souhrada reunion was due to every Souhrada family member who attended—and even some who didn't.
There were many behind the scenes workers. To begin: Dalyn and Phyllis Souhrada and Johnny and Hope Souhrada reserved and covered the cost of the Champlin Hall.
Anton Vanicek had a crew to set-up before the activities began and a cleanup crew to leave the assembly room as we found it. Viola Noska headed the kitchen crew and Ardis and Jane Souhrada beautified the dining room with floral arrangements made from Ardis' green thumb flower gardens.
John and Nelda Vanicek welcomed and registered the family. Johnny and Hope Souhrada made it a genuine, authentic Czech reunion by supplying koloches for our Sunday morning brunch. Food for the pot luck meal was furnished by everyone.
Many people brought gifts, and some who were not able to attend sent theirs for our auction. Many people purchased these items from our entertaining auctioneers, Linda Souhrada and Dave Stephens and accountant, Viola Noska. Linda Souhrada brought shopping and bargains to the reunion with her Little Russian Store and gave a portion of the profit to the Souhrada reunion fund. The artistic Souhrada Family Reunion sign was painted and given to the family by David Rassman. Enrichment was added to the reunion with the Souhrada family tree diagrams, Souhrada reunion albums, scrap books, and other historical information that were assembled by Velma and Gordon Flynn, Anton Vanicek, Frank C Souhrada III and Leota Campbell.

by Leota Campbell
---
An unscheduled gathering took place on Saturday August 9th when twelve early arrivals gathered for lunch at The Old World Inn in Spillville, Iowa.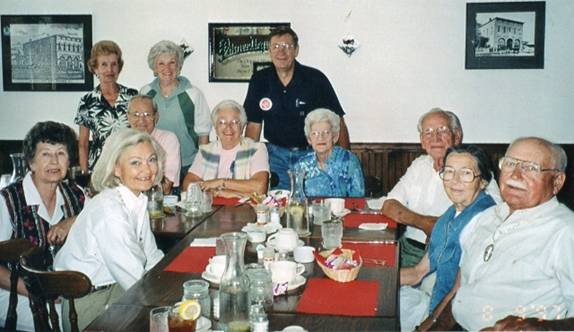 Those attending were Anton Vanicek (the photographer), Leota Campbell, Evelyn Iacullo, Viola Noska, Ed & Elsie Souhrada, Joe and Lue Souhrada, John and Hope Souhrada and Dave and Janel Stephens
---
Reunion Attendees – Sixty Attend the 17th Souhrada Annual Reunion From Six States:
Florida: Evelyn Souhrada Iacullo, Joe and Lue Souhrada
Illinois: Ed and Elsie Souhrada
Iowa: Lavine Greenslade and friend Leonard Soukup - Mary Ann Goldsmith and friend Mark Cox - Marvin and Marlys Gronwoldt - Gary and Rosemary Knutson and grandson, Aaron Johnson and friend Lisa Bohr - Viola Leslie - Ardis Souhrada - David and Robin Souhrada-Rogers and son and daughter, Zachary and Shelby Sue - Dalyn and Phyllis Souhrada - Dave A
Souhrada and daughter, Emily - Jane Souhrada - Jerry and Linda Souhrada - John and Hope Souhrada - Marketta Souhrada - Michelle Souhrada - Dave and Janel Souhrada-Stephens - Lillian Vacek - Anton Vanicek - Edwin and Betty Willimack
Minnesota: Leota Campbell - Anna Merrill - Viola Noska and granddaughter, Katy Noska - David Rassman – Dianne Rassman and daughter, Patchoula, and son, Rex, and granddaughter, Direasa - Charles and Anna Souhrada and grandsons, Jacob and Joshua Grant - Frank and Linda Souhrada - Jane Souhrada
Missouri: Rodney and Deanna Comstock
Wisconsin: Arthur Souhrada - David and Elizabeth Souhrada - John and Nela Vanicek
---