2009 Souhrada Family Reunion - # 29
DeWitt, Iowa
Hosted by the Flynn Family
August 15th and 16th, 2009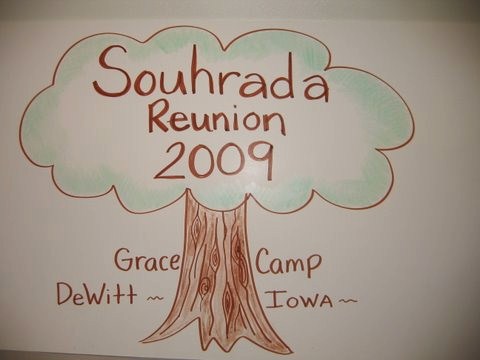 To view the entire picture album from this year's reunion, click here. Thank you to all that have contributed pictures!
2009 Souhrada Family Reunion
Special thanks to Barbara (Flynn) Erickson for providing information about this year's reunion.

The 29th Souhrada Family Reunion was held Aug. 15th and 16th, 2009 at the Grace Lutheran Church Camp Lodge in DeWitt, Iowa. This year's event was hosted by the Flynn family. Family and friends enjoyed a chili supper on Saturday night with lots of reminiscing and fellowship. Sunday we enjoyed a pork roast and chicken dinner with all the vegetables and "fixins" and homemade desserts. It was a full house with lots of wonderful chatter to be heard everywhere, pictures being taken and genealogy charts on the walls to be studied.
After dinner, the Annual Auction was held with Dave Souhrada and Paul Flynn carrying on the duties as auctioneers with the help of Shelby and Zachary Souhrada-Rogers. As always, it was great fun and lots of great items were purchased with funds going to the Reunion account to help pay for next year's reunion expenses.
It was a great day to get reacquainted with each other and renew our family ties. A prayer was said for those family members who were unable to be with us.
Elizabeth Vanicek Gotstein graciously volunteered to host the 2010 reunion in Milwaukee Wisconsin. Thank you Elizabeth! Hope you can all be there! Blessings to all of you in 2010.

If you don't want to miss the details about next year's reunion as soon as they are available, please provide us with an email address so that we can send as many invitations electronically as possible. Or, if you wish to add or update your mailing address, please email Pete Souhrada by clicking here.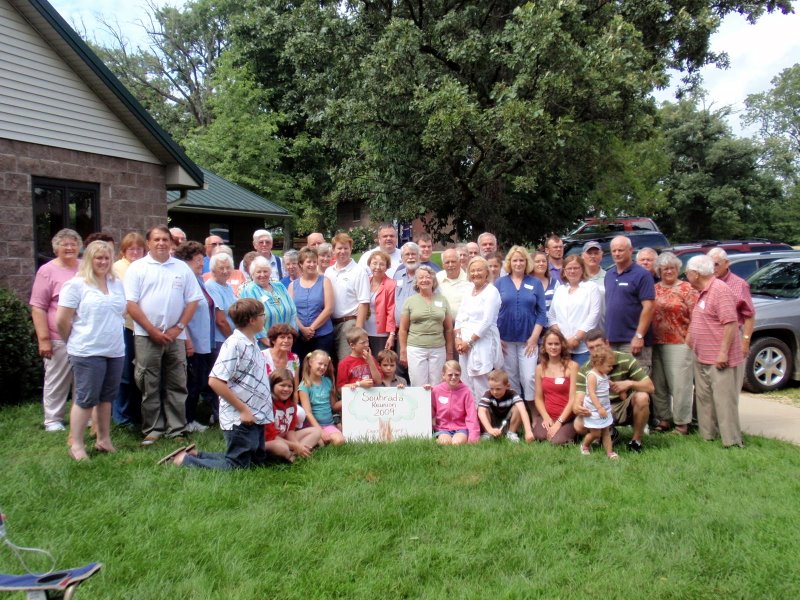 To view the entire picture album from this year's reunion, click here.
Those attending this year's reunion were:
Paul and Tammy Flynn of Blue Grass, IA
Anne Flynn of Davenport, IA
Rick and Gretchen Flynn of Eldridge, IA
Eric and Whitney (Flynn) Swanson of Davenport, IA
Mark and Barb (Flynn) Erickson of Davenport, IA
Jesse, Leah (Erickson) Chandlee and Skyler Chandlee of Coal Valley, IL
Kathleen Flynn of Davenport, IA
Peter Flynn of Iowa City, IA
Tom and Joel Flynn of Tekonsha , MI
Jerry and Maureen (Flynn) Currier of Davenport, IA
Marta Currier of Davenport, IA
Zachary Currier of Iowa City, IA
Mike Flynn of Davenport, IA
Jiri and Vera Souhradova from Pisek, Czech Republic
Rodney and Deanna Comstock of Excello, MO
John and Nelda Vanicek of Muskego, WI
Anton Vanicek of Muscatine, IA
Elizabeth Vanicek Gotstein of Franklin, WI
Dave and Cheri Souhrada of Denver, IA
Shelby Souhrada-Rogers
Zachary Souhrada- Rogers
Dave and Janel Stephens of Tipton, IA
Savannah Joy Callaway of Tipton, IA
Pat Lyon of Wyoming, IA
Mona Feuss of Wyoming, IA
Derek Feuss of Wyoming, IA
Michelle Feuss of Wyoming, IA
Leroy and Virginia Powelka of Mechanicsville, IA
Jim and Kathy Vacek
Viola Noska of Pequot Lakes, MN
LaVonne Noska of Springfield, IL
Betty Willimack of Oxford Junction, IA
Gary and Tammy Willimack of Oxford Junction, IA
Guests- Radana, Brian, and Christopher Randall
Michael and Penny Souhrada of LeClaire, IA
Ted and Kim Souhrada, Rachel and Michael of LeClaire, IA

Note on the list of attendees: It is quite possible that the list of attendees contains omissions or incorrect entrees. Please send any corrections to the webmaster.
---
Note on the reunion pictures: To provide any updates or corrections to the captions, or to contribute additional pictures, please send an email to the webmaster.
---