2012 Souhrada Family Reunion - # 32
August 18th and 19th, 2012
Cedar Falls, Iowa
Hosted by Dave and Cherie Souhrada; Janel Stephens
---
Saturday - August 18 - 5:30p.m. - Pizza and Pool Party
Sunday Morning August 14 - 10:00a.m. - Kolache Continental Breakfast
Sunday August 14 - 12 Noon Catered Dinner followed by the auction
(All events took place at the Comfort Suites, Cedar Falls, Iowa)
---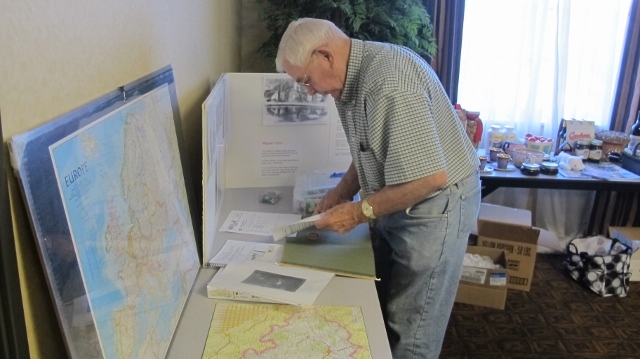 Anton Vanicek prepares display of Czech and Souhrada family documents
---
To view the entire picture album from this year's reunion, click here.
---
Before lunch, Janel Stephens read a welcoming letter from Leota Campbell in which she looked back to the first gathering of Souhrada cousins in 1981, and her joy in seeing that reunion continue now for 32 consecutive years. Leota also thanked this year's reunion hosts Dave and Cherie Souhrada and Janel Stephens, and all previous event organizers who made this remarkable feat of annual reunions possible.

In memoriam: Anton Vanicek asked those present to remember Allen David Hemann, age 41, of Greenwood, Wisconsin who passed away on Tuesday, February 28, 2012 due to a farm accident. Allen was the son of David and Linda (Gronwoldt) Hemann, grandson of Marlys (Souhrada) Gronwoldt.

At our business meeting Pete Souhrada gave an update on the restoration at our Souhrada ancestral church in the Czech Republic. Jiri Souhrada is managing the project to restore the Chapel of Saint Barbora with funds previously donated by the Souhrada family. The chapel is located just outside the main entrance to the Church of St. Michael the Archangel in Záhoří, Czech Republic.
---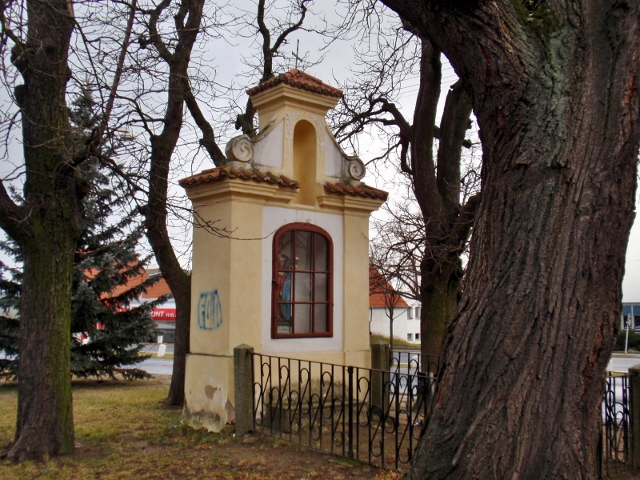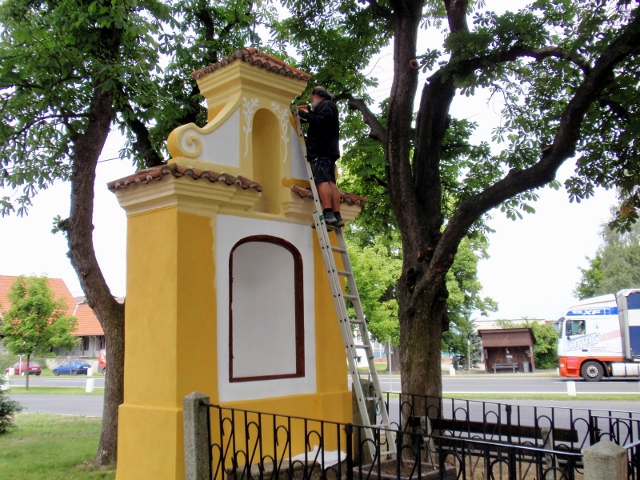 Chapel of St. Barbora – before restoration Chapel of St. Barbora – during restoration
---
Pete also reviewed some of the features and contest hosted on the family website…souhrada.com. In particular, he encouraged family members to explore and provide additional items for our Souhrada Family History section. He also provided instructions on navigating our family genealogy section.

The location and host family of the 2013 Souhrada Reunion was discussed and will tentatively be held in the Davenport Iowa area the first weekend of August and will be hosted by the Flynn family.

Dave Souhrada conducted our family auction this year with the help of younger members of our family - Rachel Rhodes and Shelby Souhrada-Rogers. Reunion attendees donate auction items and the proceeds are used to help offset the expenses of hosting the reunions.
By Pete Souhrada
---
40 Family Members gathered Sunday at 10:00 a.m. to enjoy a Kolache Continental Breakfast and a delicious Lunch
Savannah Calloway
John Chamberlain and Emilie Souhrada
Maureen Currier
Darryl Daws
Mark and Barb Erickson
Mona and Michelle Feuss (and guests Cassie and Nichole)
Kathleen and Peter Flynn (and guest Shanti)
Mike Flynn
Paul and Tammy Flynn
Rick and Gretchen Flynn
Gary and Rosemary (Souhrada) Knutson
Calvin Kotrba
Pat Lyon
Mike and Jo Powelka
Jim, Kathy (Daws) and Rachael Rhodes
Dave Rogers, Robin Souhrada, and Shelby and Zachary Souhrada-Rogers
Mark and Marlene Slettehaugh
Dave and Cherie Souhrada
Peter and Karen Souhrada
Janel (Souhrada) Stephens
Anton Vanicek
---
If you don't want to miss the details about next year's reunion as soon as they are available, please provide us with an email address so that we can send as many invitations electronically as possible. Or, if you wish to add or update your mailing address, please email Pete Souhrada by clicking here.
---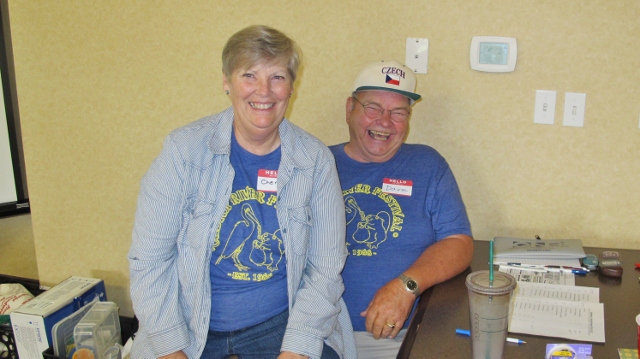 Dave and Cherie Souhrada…this year's reunion hosts
---
To view the entire picture album from this year's reunion, click here
---
Note on the reunion pictures: To contribute additional pictures, please send an email to the webmaster.
---