2014 Souhrada Family Reunion - # 34
August 9th and 10th, 2014
Galena, Illinois
Hosted by: Janel Stephens
Saturday - August 9th - 5:00p.m. – informal gathering with refreshments
Sunday August 10th - 10:00a.m. – Kolache, Juice and Coffee; 10:30a.m. Anna Cookova, Czech Language and Culture presentation; 12:00 noon catered dinner; 1:00p.m. Auction
(All events took place at the Stoney Creek Inn, Galena, Illinois)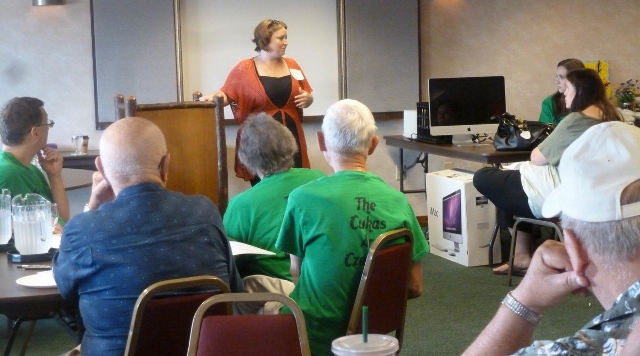 Featured guest instructor Anna Cooková conducts a seminar in Czech Language and Culture
To view the entire picture album from this year's reunion, click here.
At the Saturday evening gathering, Janel Stephens welcomed all and began the introductions. Anton Vanicek showed his informative video about our Czech roots, our homeland, our people, and the importance of family. Anton received an enthusiastic applause for his production. Delicious wraps and snacks were served while family members caught up on events of the past year.

After Sunday morning's coffee and kolaches, Anna Cooková presented a seminar in Czech language and culture. Her seminar was both entertaining and informative! Anna Cooková has lived in the Czech Republic and teaches Czech Language and Culture classes in the Chicago area and over Skype. You can learn more about Anna's upcoming classes and contact her at http://accc.wbs.cz. After lunch, Dave Souhrada conducted the auction of donated items from which the proceeds help defer the costs of our annual reunions.



Reminder: Jiří Souhrada is conducting the 8th Souhrada family reunion in the Czech Republic on September 13th and 14th. For additional details, check out the reunion webpage at >>
http://www.souhrada.com/family/upcoming_events_files/2014_reunion_CZ.htm
Souhrada reunion cake The Cuka family
---
Those attending this year's reunion were:
Savanah Callaway
Anna Cooková and Phil Cook
Denis and Rose Cuka and family
Jerry and Maureen Currier
Darryl Daws
Mona Feuss
Barb and Mark Erickson
Michael Flynn
Rick and Gretchen Flynn
Elizabeth, Josh, Chloe, and Connor Jarvis
Loren Leslie
Pat Lyons
William Miller
Mark and Marlene Slettehaugh
Dave and Cheri Souhrada
Pete and Karen Souhrada
Janel Stephens
Anton Vanicek
Nelda Vanicek
Gary and Tammy Willimack
Steve Zajicek
---
If you don't want to miss the details about next year's reunion as soon as they are available, please provide us with an email address so that we can send as many invitations electronically as possible. Or, if you wish to add or update your mailing address, please email Pete Souhrada by clicking here.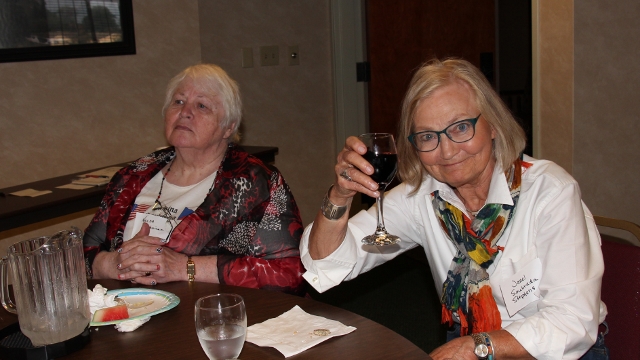 Nelda Vanicek and a toast from this year's host, Janel Souhrada Stephens
To view the entire picture album from this year's reunion, click here
Note on the reunion pictures: To contribute additional pictures, please send an email to the webmaster.