The Souhrada Family Website
Ron Daws Named 2004 Human Race Hero by "The Sporting Life"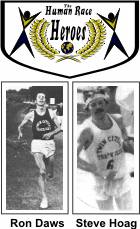 Picture copied from The Sporting Life
---
Ron Daws (1937-1992) son of Harold & Bernice Daws, grandson of Arthur & Barbara Souhrada Daws, great-grandson of Vaclav & Katherine Bican Souhrada
---
Daws, Hoag Named 2004 Human Race Heroes
(Copied from The Sporting Life Human Race Features)
Sometimes to really understand something you need to start at the beginning. The beginning of the Human Race was the St. Patrick's Day Mini Marathon, a 4.8 mile race first held on March 11, 1973. The winner was Ron Daws, followed closely by Steve Hoag in second. There were 45 participants in the race.
Daws was a 35-year-old veteran runner, a marathoner for the US in the 1968 Olympics. Hoag was the up-and-coming youngster, two years away from his breakthrough 2:11:54 second place finish in the 1975 Boston Marathon. Daws was the coach, Hoag the eager student. They would remain connected until Daws untimely death in 1992. This year they are connected again as the 2004 Human Race Heroes.
This is the third year the Human Race has honored people who represent the best of what runners and walkers offer their sport and the community. Previous winners include Janis Klecker and Mae Horns in 2002 and Leslie Seymour in 2003. Heroes are recognized each year before the Human Race, and designate a non-profit recipient for the Human Race Heroes fundraising efforts. Hoag (on behalf of Daws) has selected Team USA Minnesota as the beneficiary.

In spite of their successes, both Daws and Hoag would claim they weren't the most talented runners of their generation. Daws could make that claim more strongly. His 5:18 mile pace as a junior in high school would eventually become his marathon pace on his way to the Olympics. At the University of Minnesota, he didn't qualify for the Big Ten meet, while Hoag, also a Golden Gopher, was a Big Ten Champion.
Daws was involved in the early organizing efforts of the Minnesota RRC, the present-day Minnesota Distance Running Association. Hoag would eventually become a race director. After running the St. Pat's race twice more, winning in both 1974 and 1975, Hoag began a five-year stint as it's race director in 1980.
Daws continued to run and coach, always eager to teach. His two books, Self Made Olympian (1976) and Running Your Best (1985) remain as relevant today as when they were written. Hoag also stayed with the sport as a running-store owner, event director and coach. He is contemplating an early retirement with the pending sale of his Marathon Sports store in Minneapolis.
Daws, though gone for over a decade, still cast a long shadow over the Minnesota running scene. His companions and fellow competitors still miss him and his driven, rebel spirit. His name is now associated with the MDRA's Ron Daws 25K, this year on April 3. Now, once again, his name will be associated with a run down Summit Avenue, and with Steve Hoag. And the Human Race has two more Heroes.
---