2013 Souhrada Family Reunion - # 33
August 3rd and 4th, 2013
Moline, Illinois
Hosted by: The Flynn Family
Saturday - August 3rd - 5:00p.m. – informal gathering with refreshments and Taco bar provided by the Flynn family
Sunday August 4th - 10:00a.m. – Kolache, Juice and Coffee; 12:00 noon catered dinner
(All events took place at the Stoney Creek Inn, Moline, Illinois)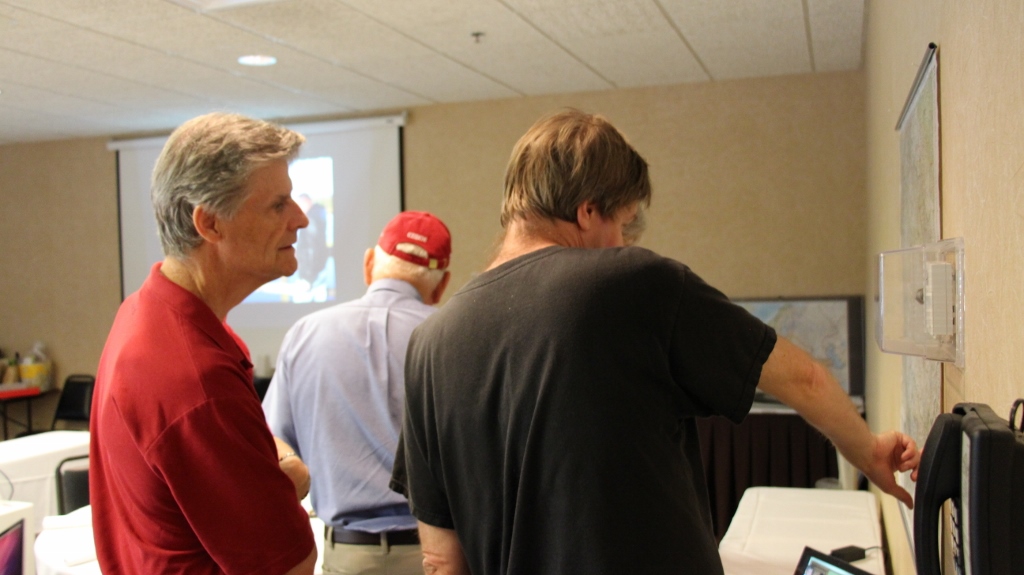 Mark Slettehaugh and Darryl Daws locate our Souhrada homelands on map of Czech Republic
To view the entire picture album from this year's reunion, click here.
Before dinner, a video prepared by Jiri Souhrada of past Souhrada events was played for the enjoyment of the guests. Paul Flynn welcomed everyone to the 33rd annual Souhrada reunion and Tom Flynn led us in grace before the catered dinner. After dinner, Anton Vanicek showed his excellently produced video about our Czech roots, our homeland, our people, and the importance of family. Anton received an enthusiastic applause for his production. Paul Flynn followed the presentation with an emotional reminder to all of the young people attending to talk to their parents and grandparents about their ancestors and family histories. Pete Souhrada read a letter prepared by Jiri Souhrada to all those attending, which concluded with an invitation to the 8th Souhrada Reunion in the Czech Republic in 2014. (A copy of his letter is listed below.) He also sent greetings from Leota Anderson, and reminded everyone of the first gathering of Souhrada cousins in 1981, and her joy in seeing that reunion continue now for 33 consecutive years.

In memoriam: Paul Flynn asked those present to remember Marlys (Souhrada) Gronwoldt, who passed away this past year. Marlys was the daughter of Martin Souhrada and granddaughter of Vaclav Souhrada.
Note from Jiri Souhrada, Pisek CZ
(Edited by Pete Souhrada)
PISEK July 25th 2013
Hello Souhradas,

We remember how 22 years ago Frank Souhrada and Anton Vanicek came to our place in Pisek, Czech Republic to find their Souhrada family roots in Dolni Novosedly so we had luck searching for our same family roots there. My father Jan Souhrada was born in Dolni Novosedly number 2 and very often went there with me for the harvest and visit his relatives there. We made contact and later visited the Souhrada Reunion for the first time in Iowa. It was our dream visit for we were very much intersted in America and we found so many relatives. It is maybe a wonder, I told my wife Vera there.

We later traveled often to America, met new relatives there and they helped us see a lot of the states of America. This time was the start of my genealogy and searching for Souhrada Family Tree and relatives in other parts of the world.

I did research and found that Souhrada lived a long, long time ago in a place betwen the rivers Vltava and Otava and also betwen the Castle Pisek and the Castle Zvikov. We knew only that Souhradas lived there perhaps since the 11th century. Now we met new relatives from Putim, if you know that Matej Souhrada and Anna Stara had children Frantisek Souhrada was born 1817 in Dolni Novosedly, my great-grandfather, his brothers Matej was born 1833 and Jan Souhrada was born 1824, emigrated to America. Josef Souhrada (born 1838) moved to Tresen number 20 and later in 1930 his son Frantisek lived in Putim. There are more living Souhradas there, so next year the Souhrada Reunion is in the village of Putim.

We had luck meeting so many great cousins and the cousins of 3 or even 7 generations back in Iowa, Minnesota, Nebraska, New York, Colorado, Wisconsin, Illinois, Nevada, and Florida. We also met Souhradas from South Dakota which are also relatives of ours Souhradas. We also visited the town of Pisek in North Dakota, the town of Tabor in South Dakota, and the town of Protivin in Iowa. We now have many good friends there.

Thank you very much Anton Vanicek, Velma Flynn, Leota Campbell, Frank and Linda Souhrada, Pete and Karen Souhrada, Phyllis and Todd Souhrada, and Karen, Laura Souhrada, the big family of Flynns, John and Nelda Vanicek, John and Hope Souhrada, Dave and Janel Souhrada Stephens, Sara Kotrba, Susan, Dave and Cherie Souhrada, La Vonne Souhrada Noska, Viola Souhrada Noska and also Wiliam Miller Souhrada, George Souhrada from Cleveland Ohio and next relatives and good friends from America. I hope we stay good friends and relatives. I hope our children and grandchildren stay in contact. We thank you for your help on all of our trips to America, and we would like to welcome you in the Czech Republic.

We wish you good health and good meeting in Moline. I will be keep researching genealogy on the Souhrada family.
Jiri Souhrada Pisek Czech Republic
Vera Souhrada Pisek Czech Republic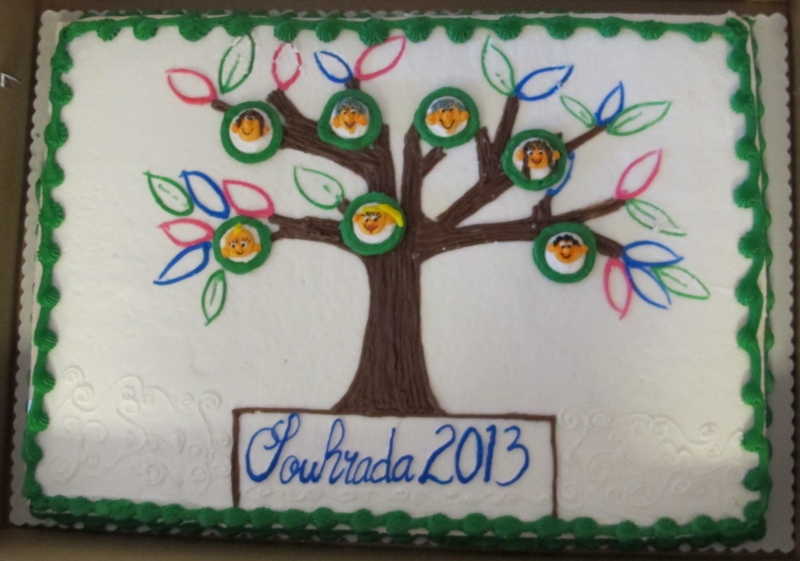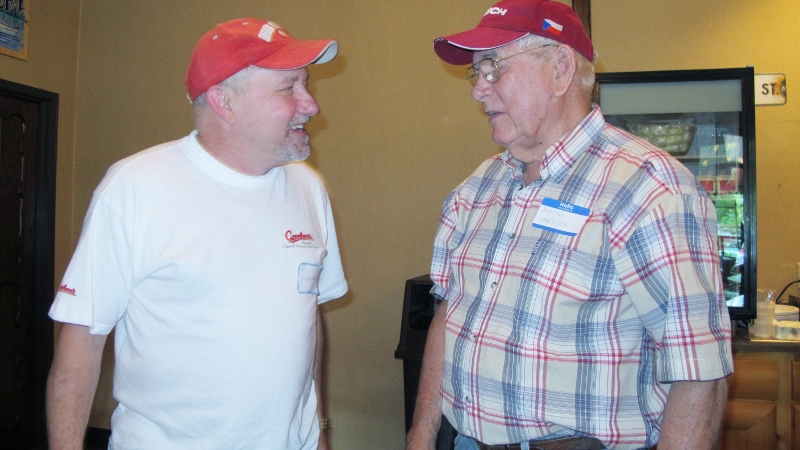 Souhrada Family Tree cake Bill Miller (his first visit to our reunion) meeting Anton Vanicek

Paul Flynn and Dave Souhrada conducted our family auction this year with the help of younger members of our family. Reunion attendees donate auction items and the proceeds are used to help offset the expenses of hosting the reunions.
By Pete Souhrada
Those attending this year's reunion were:
Susan and Savannah Callaway
Leah, Jesse, Skyler, Avery, and Elias Chandlee
Maureen and Jerry Currier
Darryl Daws
Mona Feuss, Michelle Feuss and friend
Barb and Mark Erickson
Michael Flynn
Paul and Tammy Flynn
Rick and Gretchen Flynn
Tom, Ezra, Joel, and Naomi Flynn
Elizabeth, Josh, Chloe, and Connor Jarvis
Pat Lyons
William Miller
Mark and Marlene Slettehaugh
Mike and Penny Souhrada
Dave and Cheri Souhrada
Pete and Karen Souhrada
Ted, Kim, Michael and Rachel Souhrada
Janel Stephens
Whitney, Eric, Ezekiel, and Evie Swanson
Bob and Janet Vacek
Anton Vanicek
Nelda Vanicek
Gary and Tammy Willimack
If you don't want to miss the details about next year's reunion as soon as they are available, please provide us with an email address so that we can send as many invitations electronically as possible. Or, if you wish to add or update your mailing address, please email Pete Souhrada by clicking here.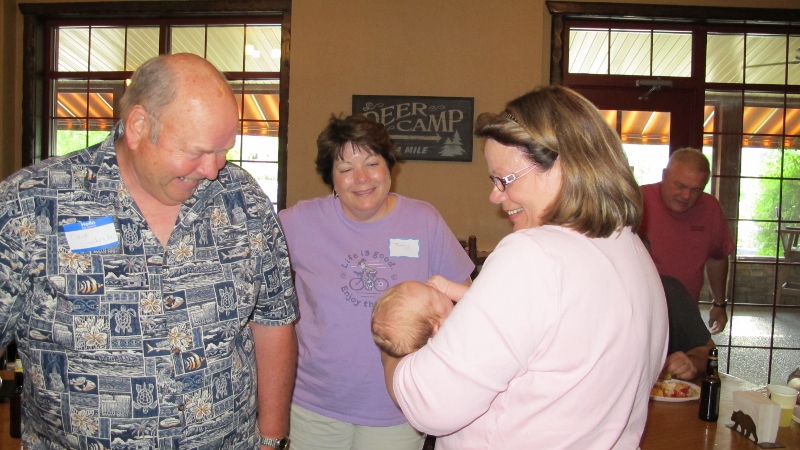 Dave Souhrada, Tammy Flynn and Barb (Flynn) Erickson admire the newest addition to our family tree
To view the entire picture album from this year's reunion, click here
Note on the reunion pictures: To contribute additional pictures, please send an email to the webmaster.